Training courses
See what training is available to keep you up-to-date on health and safety guidelines.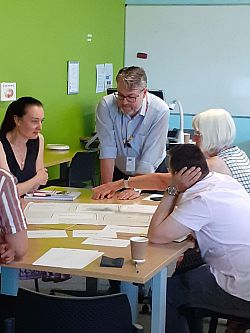 We offer a range of courses.
Health and safety training is an important part of the health and safety culture of the University.
It is also a legal requirement under the Management of Health and Safety at Work Act and other legislation written by the Health & Safety Executive.
Book a course
You can book on to an existing course by logging into Sussex Direct with your normal details..
Health & Safety course listing

The current courses offered by the Safety Team are listed by subject below.
If a course is not currently scheduled, you can email healthsafety@sussex.ac.uk to be added to a waiting list.
We are in the process of expanding this list.
Late cancellation
Late cancellations that leave places empty have considerable cost implications for the University and remove opportunity for other staff members who might wish to attend. Given this, a late cancellation fee of £50 will be charged to your school or division if you cancel your booking within three days of the course start date.
Exceptions may be made for illness, evidenced by your line manager or doctor's note, or a family emergency. We are happy for you to substitute your place as long as you notify us before the course commences.
Display screen equipment assessors

Display Screen Equipment Assessor Training

| | |
| --- | --- |
| Length | 2 hours |
| Location | On site |
| Maximum attendees | 12 |
| Assessment | Practical examples during the course |
| Delivered by | University Safety team |

Driving courses

Mini buses driver training

This course is for members of staff driving vehicles carrying eight people or more

This course is not offered by Health and Safety. Please contact SEF Transport if required on

Fire safety

Fire Extinguisher Training

This is a practical course in the use of extinguishers to put out fires and should be attended by staff that may be expected to use an extinguisher as part of their duties.

| | |
| --- | --- |
| Length | Half day |
| Location | On site |
| Maximum attendees | 6 |
| Assessment | Practical |
| Delivered by | External |

Evacuation Chair Training

This course is for individuals that may be required to assist someone with limited mobility exit a building in an emergency.

| | |
| --- | --- |
| Length | 4 hours |
| Location | On site |
| Maximum attendees | 8 (four per trainer) |
| Assessment | Practical |
| Delivered by | University Safety team |

Fire Warden Training

This course is mandatory for all Fire Wardens on the Falmer Campus

| | |
| --- | --- |
| Length | 4 hours |
| Location | On site |
| Maximum attendees | 15 |
| Assessment | In course evaluation |
| Delivered by | University Safety team |

First aid

First aider training is currently being reviewed in line with the ongoing pandemic. If you require first aid training, please submit the form below.

Available Courses:

Emergency First Aid at Work (EFAW) is designed for low-risk workplaces, most appropriate for staff members. It can also be used for staff required to be emergency first aiders or to support the Emergency Response and Security Teams.

| | |
| --- | --- |
| Length | 1 day |
| Location | On site |
| Maximum attendees | 12 |
| Assessment | Continuous observation by the trainer and written assessments. |
| Delivered by | External |

First Aid at Work (FAW) course is designed for higher risk areas and is appropriate for members of the Emergency Response and Security Teams who attend emergencies across campus.

| | |
| --- | --- |
| Length | 3 days |
| Location | On site |
| Maximum attendees | 12 |
| Assessment | Continuous observation by the trainer and written assessments. |
| Delivered by | External |

IOSH safety courses

IOSH Managing Safely

| | |
| --- | --- |
| Length | 4 days |
| Location | Varies |
| Maximum attendees | Varies |
| Assessment | Examined and coursework |
| Delivered by | External |

IOSH Working Safely

| | |
| --- | --- |
| Length | 1 day |
| Location | Varies |
| Maximum attendees | Varies |
| Assessment | Examined |
| Delivered by | External |

Manual handling

Manual Handling Training

This course is for staff carrying out manual handling activities and assessing manual handling risks.

| | |
| --- | --- |
| Length | 2 hours |
| Location | On site |
| Maximum attendees | 12 |
| Assessment | Practical |
| Delivered by | University Safety team |

Radiation

Using unsealed Sources of Ionising Radiation

This course is required for all new users working with unsealed sources of ionising radiation.

| | |
| --- | --- |
| Length | 2.5 hours |
| Location | On site |
| Maximum attendees | 12 |
| Assessment | Examination |
| Delivered by | University Safety team |

Using Sealed Sources of Ionising Radiation

This course is required for all new users working with unsealed sources of ionising radiation.

| | |
| --- | --- |
| Length | 1.5 hours |
| Location | On site |
| Maximum attendees | 12 |
| Assessment | Examination |
| Delivered by | University Safety team |

X-ray Users Training

This course is required for all staff and students working with X-ray equipment without supervision by a trained user.

| | |
| --- | --- |
| Length | 30 minutes |
| Location | On site |
| Maximum attendees | 30 |
| Assessment | In course |
| Delivered by | University Safety team |

Radiation Protection Supervisor Training

Radiation Protection Supervisors are required for all supervised and controlled areas. Training must be repeated every three to five years.

| | |
| --- | --- |
| Length | 2 days |
| Location | Varies |
| Assessment | Examination |
| Delivered by | Aurora Health Physics |

Laser Safety Officer Training

| | |
| --- | --- |
| Length | 1 day |
| Location | Varies |
| Assessment | Examination |
| Delivered by | Aurora Health Physics |

Laser Safety Training for Group Leaders

This course is under development. Please submit a request using the form below if required.

Laser Safety Training for users of Class 3 & 4 Lasers

This course is under development. Please submit a request using the form below if required.

Risk assessments

Risk assessment training courses

This training is for any member of the University to support them in identifying and assessing hazards involved in their work, completing a risk assessment and how to identify suitable and sufficient control measures.

| | |
| --- | --- |
| Length | 2 hours |
| Location | On site |
| Maximum attendees | 12 |
| Assessment | A completed risk assessment is submitted at the end of the course |
| Delivered by | University Safety team |

Safety Co-ordinator training (mandatory for new Safety Co-ordinators)

University of Sussex Safety Co-ordinator induction

This course is to familiarise new Safety Co-ordinators with the role and responsibilities and provide an opportunity to network and meet with members of the Health and Safety Team.

| | |
| --- | --- |
| Length | 2 hours |
| Location | On site |
| Maximum attendees | 4 |
| Delivered by | University Safety team |

Travel, fieldtrips & fieldwork

Basic Field First Aid


This course is aimed at staff supporting undergraduates on low risk field trips (i.e. a trip to a museum). It's an ideal course for anyone wanting to know the basics of Field First Aid, what supplies to carry and what do if an accident occurs off campus.

| | |
| --- | --- |
| Length | 4 hours |
| Location | On site |
| Maximum attendees | 12 |
| Assessment | Practical |
| Delivered by | SETTICA |

Fieldwork First Aid

This course is aimed at:

Staff supporting undergraduates on more complex fieldtrips (i.e. Trips to remote areas or where there are associated natural hazards)
Members of Expeditions that are expected to provide first aid support to other members of the UoS
Staff travelling to remote or hazardous areas where the risk of injury or the repercussion from becoming injured are heightened due to the lack of reliable medical support in the region.
This is a field focused First Aid course for anyone wanting to know what to do in a remote accident and what best to carry when working away
It can be adapted to cover different global environments which have extreme dry, cold and humid climates.

Individuals who complete this course will be provided with first aid manuals and certification as a first aider.

| | |
| --- | --- |
| Length | 6 hours |
| Location | On site |
| Maximum attendees | 12 |
| Assessment | Practical |
| Delivered by | SETTICA |

Hazardous Environment Training

This course is aimed at staff and postgraduate research students travelling to hazardous environments, including remote areas and or areas where the Foreign & Commonwealth Office advise against all but essential travel.

It will cover topics such as how to identify threat and environmental hazards by increasing your situational awareness to make a safe plan of action if things start to go wrong.

| | |
| --- | --- |
| Length | 3 hours |
| Location | Hybrid |
| Maximum attendees | 12 |
| Assessment | During the course |
| Delivered by | SETTICA |

Advanced Hazardous Environment & Remote Areas Training

This course is aimed at staff and postgraduate research students travelling to regions where the Foreign & Commonwealth Office advise against all travel or where there are known hazards that are viewed to be significant. This training is bespoke and related to the expected hazards.

It can cover remote First Aid, how to travel/work safely in extreme dry, cold or humid environments.

| | |
| --- | --- |
| Length | 2 hours to 1.5 days, depending on requirement |
| Location | On site |
| Maximum attendees | Varies |
| Assessment | During the course |
| Delivered by | SETTICA |

Study Abroad Student Briefing

Students undertaking a year abroad as part of their studies should contact the Study abroad office for details of what briefings are required.

Working at height

Working at Height Training

This course covers the use of ladders and steps for Schools and Divisions of the University. It does not cover scaffolding or other specialised activity.

| | |
| --- | --- |
| Length | 4 hours |
| Location | On site |
| Maximum attendees | 12 |
| Assessment | During the course |
| Delivered by | University Safety team |
Requesting training courses
For requests for training courses or further information please email healthsafety@sussex.ac.uk