Managed Service for UK-Based Non-Permanent Workers
Following an extensive tender process, the University has entered a strategic Partnership with Reed Talent Solutions who will provide a single managed service covering all UK-based non-permanent worker engagements. This covers workers previously engaged via other Agencies or via the University's casual payroll.
This Service does not cover workers employed directly by the University on either Permanent or Fixed-Term contracts, which continue to follow the existing HR process.
For the following types of engagement, an IR35 assessment should be completed prior to engagement and if the work is deemed to be 'within IR35' these should be referred to the Managed Service:
Post-Graduate Examiners
Research Assessors
Artist Fees/Performance Fees
Off-Syllabus Guest lecturers
Where these engagements are deemed to be 'outside IR35', they should be engaged via a Light Touch Requisition using the appropriate 'product code':
*To access the Light Touch Requisitioning process, please contact FinanceServiceDesk@sussex.ac.uk

Service structure: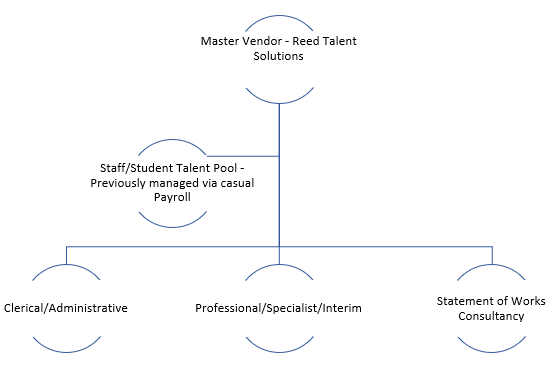 Key Benefits for The University:
Single point of contact for all non-permanent worker engagements
Standardised and simplified processes for Hiring Mangers
Automated admin processes such as electronic time sheets
Cost savings via Reduced agency fees
Dedicated University 'Talent Pool' for occasional/Student workers
Benefits for Temporary/Casual workers:

Alignment of rates of pay/benefits with University pay scales/Job families
Faster onboarding/engagement processes (no casual payroll forms)
Greater visibility of opportunities/vacancies within the University (particularly for Students)
Faster payment
If you need to engage a non-permanent worker, you should follow the initial process below: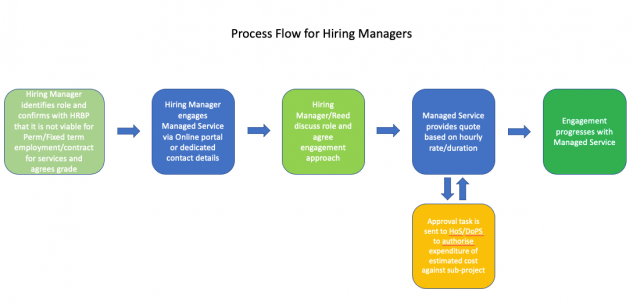 Alternatively, view this process flow as a PDF Document.
Useful Information:
UoS Level 3 Approver User Guide
Process guidance for Talent Pool workers
Escalation Process with Contacts and SLA
Reed Managed Services Rates of Pay [PDF 715.46KB]
Worker Info - Guide to Timesheets and Expenses
Hiring Manager Info - Hiring Manager Portal User Guide
If you wish to join the worker talent pool, please contact TalentPool.UOS@reed.com.
Managed Service Contact details:
If you need to contact the service, please E-mail: temporaryresourcing.uos@reed.com or Phone: 03330 154970
For support accessing or using the hiring manager portal, you can contact the XMS helpdesk on: 0208 274 4500
You can access the Hiring Manager Portal at: www.xms-portal.com
If you have any further questions, wish to provide feedback, or if you need to engage a non-permanent worker and have not already done so, please contact your HR Business Partner
Definition of Services
Agency Appointments - Master Service Provider

This part of the service covers engagements traditionally sourced via an agency, such as temporary cover and interim roles. These can be general skilled (such as admin/clerical cover) or more specialist (such as legal, IT or medical).

The Managed Service provides support for these types of roles directly from its own pool of candidates or those that it actively searches for and recruits, as well as managing a supply chain of other niche/specialist agencies on the University's behalf, ensuring that Hiring Managers can access the quality candidates they need via a single point of engagement.

As is usual with Agency appointments, individual budgets will incur the cost of both the payment to the worker as well as an Agency fee covering sourcing and administration (although these fees have been negotiated via competitive tender to represent maximum value for money for the University).

University of Sussex Talent Pool

The Talent Pool element of the service is a pool of individuals identified by the University as people that we wish to engage or to have available to engage in the future.

This includes Students as well as other individuals that are either engaged on a single or occasional basis where direct employment or a contract for services may not be appropriate. This could include a number of diverse engagements such as Performers, Visiting speakers or other individuals that have previously been engaged via the University's casual payroll.

The Talent Pool brings a number of benefits to the University as well as those individuals registered on it, such as faster engagement, full right to work vetting, faster payment and alignment to UoS pay and conditions (increasing equality across the workforce).

Individual budgets will only have to incur the cost of the payment to the worker as well as statutory on-costs (NI, Pension contributions etc) as has previously been the case with individuals engaged via the University's casual payroll process. These costs are calculated in advance of the engagement, allowing budget holders to plan more effectively than has been possible previously.

Individual budgets do not incur any administrative or service fees when engaging workers from the Talent Pool.

Statement of Works Consultancy

Statement of Works Consultancy refers to the engagement of specialist consultants on a fixed fee/fixed delivery model. The Managed Service will work with the University to develop a specification of requirement and procure these services on the University's behalf. This is often useful to engage specialist expertise for specific projects such as construction or capital investment projects.

As well as supporting the University to engage expert support, the Managed Service will also support the University in achieving maximum value for money, minimizing risk and supplier management over the term of the engagement.

These engagements will normally be priced on a fixed fee/fixed outcome basis payable against pre-agreed delivery milestones.
FAQs
1. Can I only use the managed service? What if I have a specialist or niche requirement?

Reed will act as a Master Vendor. This means that they will either supply workers directly or contract with other specialist agencies on our behalf. In either case, the engagement will be via the Managed Service.

2. What about workers that we have previously used from other agencies, will we lose access to those with experience of working with the University?

Reed are already engaging with other Agencies we have used in the past to ensure that we have access to as many workers as possible whom we might wish to engage again in the future.

3. I already have workers engaged via another agency or via the casual payroll. How will they be affected?

Current engagements will continue unchanged, so this should cause no disruption to service or cause concern for individuals currently engaged. The Managed Service will apply to all future engagements or re-engagements going forward.

4. I currently rely on the casual payroll to engage with casual/occasional workers, will the new process affect my budget?

No. Your budget will only be charged the direct cost of that worker (pay + Statutory Overheads) as is currently the case via the University's casual payroll. The exception to this is new grant-funded budgets, where the whole cost of the worker can be costed into the bid.

5. Do I have to raise a purchase order to cover workers in my area?

No. The Managed Service will provide you with a quotation for each engagement and you simply need to attain written approval from your Head of School or Director of Professional Service and send this to the Managed Service. Your budget will then be charged automatically.

6. I do not use agency workers as I use student workers instead. Do I need to use this service?

Yes – all student opportunities going forward will be awarded via the University Talent Pool. Students are being invited to register on the talent pool and once their pre-employment checks are complete, they will be able to apply for all opportunities posted on Careers Hub.

7. I work with individuals that we have previously engaged via the casual payroll and I know that we will use them again. What should I do?

You should encourage them to register with the Talent Pool via the contact details above. Once registered, you will be able to engage them via the managed service, but they will only have to register once.

8. I have a requirement but i'm not sure which part of the service I should use. What should I do?

You should speak the the Managed Service Team who can discuss your requirement with you and propose the most appropriate engagement route based on your requirements and the type(s) of worker(s) required.

9. What about right to work/IR35 checks - who does this?

The Managed Service will complete all right-to-work checks on behalf of the University. All roles will be deemed 'inside IR35' as a default position. If, during the engagement process, it appears that the role may fall 'outside of IR35', the assessment will be referred to the University's IR35 team who will complete the assessment and confirm the outcome prior to the engagement being finalised.

10. Should I use this process for engagements outside of the UK?

No – Engagements of this type should be engaged via a Contract for Services, supported by a Purchase Order.

11. I need to engage someone on a fixed fee basis rather than on an hourly rate. Does the Service support this?

Yes - Certain types of engagements may be appropriately supported with a fixed fee. In these cases, there is a job template which can be used to support this. However, you should ensure that this is the most appropriate way to engage the individual by consulting your HRBP.

12. How should I engage with the service?

The Hiring Manager Portal is the best way to engage with the service and to administer and track your engagements. Alternatively, you can contact the Managed Service via the contact details above to discuss your requirements.

13. Where do I find training materials to use the portal or access the Service?

This page contains a number of guidance documents under "useful information". This includes user guides and a recording of a training session on the XMS portal. If you require further assistance around the specific roles, you can contact the service via the details above, or if you need additional support using the XMS portal, you can contact the XMS helpdesk on 0208 274 4500

14. I have not used the Hiring Manager Portal before. How do I log on?

If you have raised requisitions for Agency engagements in the past, you will likely already be registered and you can simply enter your University email address and request a new password via the 'Forgot Password' link.
If you are not already registered, you can request access to the Portal via the contact details above.

15. Will the University Casual Payroll process still be available to pay existing Sussex staff members who are engaged for additional casual work (i.e. additional work not part of their substantive post)?

Sussex staff who hold contracts of employment (Permanent or Fixed Term) should not go to Reed and will continue to be able to submit claims using the existing casual claim process.

16. Can I pay an individual a one-off payment for work?

Reed can process these payments; however, the individual must be made aware before the start of the engagement that any one off payment for work conducted will be subject to tax and NI deductions. Failure to complete a New Starter form will result in emergency tax being imposed.