News
University of Sussex reports latest pay gaps
Posted on behalf of: University of Sussex
Last updated: Monday, 29 March 2021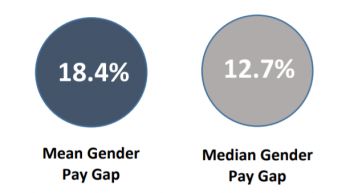 The University of Sussex has today (Monday 29 March 2021) filed its annual gender pay gap data with the UK Government Equalities Office, and published data on ethnicity and disability pay gaps at Sussex.
A pay gap is different from equal pay, i.e. the right for men and women to be paid the same for the same\equivalent work or work of equal value. The most recent University review into equal pay indicates that Sussex does not have an institutional equal pay issue.
Gender pay gap
The University's mean gender pay gap is 18.4%, a reduction of 4.1% percentage points compared to last year. The median gender pay gap has also reduced, from 18.6% to 12.7%.
The gender demographic of Sussex staff is the key driver for the gender pay gap – there are more women than men in lower-grade roles and more men than women in higher-grade roles, and this is particularly the case in the academic community.
The reason for the reductions this year is a change in the data set, to include 380 doctoral, language and school tutors whose data was not previously available in a format that allowed it to be included in the return. This has been rectified this year, which has changed the overall gender demographic, increasing the percentages of male staff in lower grades.
Siobhan O'Reilly, Director of Human Resources, said: "This change in our data set will make it easier for us to benchmark Sussex other against other institutions that collect this data in the same way."
Despite this change, there is still over-representation of female staff in the bottom pay quartile and under-representation of female staff in the top pay quartile, particularly in academic roles.
A detailed Gender Equality Action Plan includes actions to address the gender pay gap and was refreshed as part of the University's institutional Athena SWAN submission in November 2020.
Key actions for 2021 include a review of the current pay framework for grade 10, to improve parity between roles and transparency on market supplements.
Siobhan said: "Our actions to reduce the gender pay gap concentrate on those drivers controlled by the University and remain focused on under-representation of women in the top pay bands."
In addition to the gender pay gap, the University follows recommended best practice and reports disability and ethnicity pay gaps. The same data set and methodology are used for all three pay gaps.
Ethnicity pay gap
The ethnicity pay gap shows the percentage difference in the average hourly rate of pay between Black, Asian and Minority Ethnic (BAME) and non-BAME staff. This is calculated using the same calculation methodology as for gender pay gap reporting.
Overall, 16% of Sussex staff identify as BAME. The overall median pay gap is slightly in favour of BAME staff, at -4.7% (i.e. overall, BAME staff have 4.7% higher pay than non-BAME employees). The mean pay gap is -2.6%. These figures compare with a 2020 median ethnicity pay gap of -3.0% and a mean pay gap of -6.7%.
However, it is important to note that this continued gap in favour of BAME staff mainly relates to a lower percentage of BAME staff in professional services role (9% BAME) compared to academic roles (21% BAME) and the greater representation of professional services staff in lower-grade roles.
In fact, when comparing BAME and non-BAME staff within academic roles, the mean ethnicity pay gap is 5.6% (i.e. overall, non-BAME academic staff have 5.6% higher pay than BAME academic staff) and the gap is 2.8% for those in professional services roles, again in favour of non-BAME staff.
As part of the work towards a Race Equality Charter, this data is currently being analysed in more detail to understand the gaps for different groups of staff.
The University is committed, through the work of the Race Equality Charter Self-Assessment Team, to increasing the representation of colleagues who identify as BAME in the staff population and in improving the number of BAME staff in senior roles.
Disability pay gap
For disability, Sussex has a median pay gap of 11.3%, down from 13.7% last year. The mean pay gap is 18.3%, which is up from 15.9% last year. This results from the inclusion of tutors in the dataset, and the outcome is an increase in the percentage of staff with a disability in the lower pay grades.
Overall 6% of Sussex staff have a known disability. "We are aware that this is likely to be under-reported," Siobhan said.
A new steering group that has been established to take forward work on disability equality will analyse the pay gap data in more detail.