Student Led Teaching Awards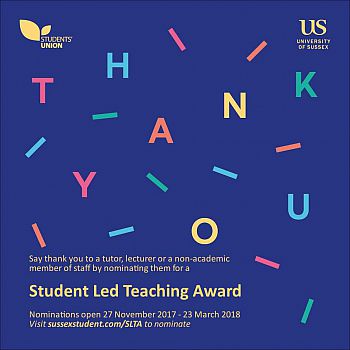 The Student Led Teaching Awards are a partnership between the University of Sussex and the Students' Union. Each year students are invited to say thank you to a member of staff who has made a difference to their teaching and learning experience at Sussex by nominating them for an award. All students are eligible to take part and they can nominate both academic and non-academic staff for an award.
In 2017/18 nominations can be made online between 27 November 2017 and 23 March 2018 via the Students' Union Website. The nominations can be submitted by individual or groups of students. Where nominations are by groups, the names of all students supporting the nomination should be included. Students should also include supporting comments with their nomination so it's really clear why the staff member is being nominated. The supporting comments are really important as the nomination cannot be considered without them. Staff really value being recognised through these awards and it's even better if we are able to let them know some of the great things that students said about them in their nomination.
As these are student-led awards, students also get to decide who wins the awards. Once the nominations have closed, a panel of Student Reps will consider the nominations and decide the successful recipients giving them one of the following awards:
Outstanding or Innovative Undergraduate Teaching
Outstanding or Innovative Postgraduate Teaching
Outstanding or Innovative Assessment and Feedback
Outstanding Support for the Learning Experience of Students
Outstanding Professional Services Support for the Learning Experience of Students

Outstanding or Innovative Contribution to Sustainability in the Curriculum
The results will be announced in April and winners will receive a certificate presented at the annual Teaching and Learning Conference.
Key contacts for these awards are Clare Wolstenholme in AQP and the USSU Education Officers.
If you have any questions about these awards please email teachingawards@sussex.ac.uk.