Drugs
Drug Misuse
The University of Sussex prohibits the possession, use and distribution of any controlled or illegal drug by any member of the University, whether they are on or off campus. Any student found to be in the possession of drugs or using or distributing illegal and controlled substances can lead directly to disciplinary or other institutional action. Information on the risks associated with drugs is available from the following web pages or the National Health Service.
The possession, use, and distribution of controlled or illegal drugs may also be a criminal offence that can lead to arrest and prosecution. Further details about the UK Misuse of Drugs Act and penalties/legal sanctions that are applicable to those who contravene the Misuse of Drugs Act are available from the Home Office (UK Government) website on Drugs and the Law
Before taking drugs, you should be aware of the legal implications, the risk to your continued membership of the university and the risk that drugs pose to your physical and psychological health.
University Drugs Policy
The University has a legal duty to provide a safe environment for all our students and staff. We take this responsibility very seriously, and we set out this guidance with your welfare in mind.
The University does not tolerate the use, possession or selling of illegal drugs on the campus, or in off-campus University-managed accommodation. All such incidents coming to our attention will be referred immediately to the police as a criminal matter, as is our legal duty. The University will also always consider whether to take its own further disciplinary action once any legal process has run its course. Likewise, the presence of controlled drugs in University-managed accommodation is in breach of our tenancy rules, and may lead to eviction. For clarity, it is an offence to:
Possess a controlled substance illegally;
Possess a controlled substance with intent to supply;
Supply or offer to supply a controlled drug (even if it is given free );
Allow a home, flat or office to be used by people taking drugs.
It is important to be aware that if you were to face prosecution, not only would there be the possibility of a prison sentence, but you may face the prospect of a limiting your career path, or not being able to visit certain countries in the future.
You should notify your Academic Advisor or Student Advisor if you taking prescribed medication which could affect your ability to work or study safely.
You should be aware that the reduction of alertness and impaired judgment associated with drug consumption can compromise both your health and safety and that of others.
You should ensure that your behaviour is appropriate while you are engaged in University activity and that you are not under the influence of illegal drugs.
If you believe that you have a drug-related problem, you should seek help as soon as possible to avoid this problem becoming worse.
Reporting suspected drug-dealing on campus
Drug-dealing endangers the safety of our community. If you have concerns and/or information relating to drug-dealing on campus and would wish to report something, you can do so anonymously by a call to staff in our Security Office (01273 678234; or just extension 8234 from a campus phone).
Prescription drug misuse
This is the term applied to the dependency developed on drugs which may have been prescribed initially for you or someone else legally. See the Boots website for a full run down of drugs and effects.
Legal Highs (psychoactive substances)
The Psychoactive Substances Act which came into force on 26 May 2016 made it an offence to produce, supply or offer to supply any psychoactive substance* if the substance is likely to be used for its psychoactive effects and regardless of its potential for harm.
The only exemptions from the Act are those substances already controlled by the Misuse of Drugs Act, nicotine, alcohol, caffeine and medicinal products.
Definition of psychoactive: "any substance which (a) is capable of producing a psychoactive effect in a person who consumes it, and (b) is not an exempted substance"
Possession: of a psychoactive substance will not be an offence, except in a 'custodial institution' (prison, young offender centre, removal centre etc.). Possession with intent to supply, importing or exporting a psychoactive substance will become offences so be aware of stockpiling these substances.
Importation: the importing of a psychoactive substance would include buying a substance from a non-UK based website, which may lead to individuals being prosecuted.
Other legal substances
At any given time a substance can be legal and yet still very dangerous. The legality of substances is also something that can change suddenly (as above). The fact that a substance may have become illegal since you acquired it will not be accepted as an excuse by the law or the University. The only safe line in this area is 'steer clear'.
Sources of information
Emergency help
If you are on campus dial 3333 on an internal phone or 01273 873333 to call Security. Don't delay.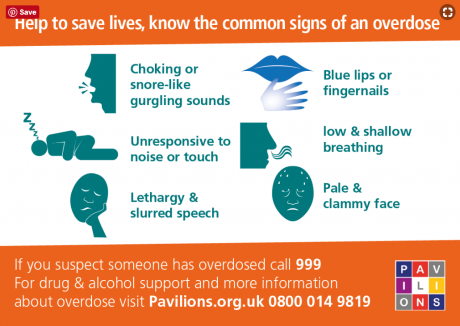 Unexpected side effects of drug misuse
Anxiety
Paranoia
Loss of motivation
Weight gain
Acne
Difficulty in maintaining an erection
Panic attacks
Depression
Heart problems
Peer pressure
If you are feeling under pressure to take drugs – this is the advice FRANK gives:
In summary:
Most young people don't take drugs so you are in the majority
Decide where you stand on issues such as drugs and think about how you would want to respond and behave.
It will always help to talk to someone you trust.
It's fine to say no clearly and not to change your mind – you will be respected more even though initially, it might not appear so.
Everyone is worrying what other people think of them – you're not the only one.
Watch out for your friends – talk to someone you trust and get them help.
If you're finding it hard to be yourself in a group then perhaps you need to find different friends.
Before trying anything get confidential help and information from FRANK or Think Drink Drugs
You can talk to FRANK at any time of the day and night 0800 77 66 00
If you're worried about a friend
Sometimes a friend may become dependent on drugs without realising it or perhaps cannot admit it.
If you notice that a friend:
feels the need for the drug regularly
has a constant supply of it
has failed to stop using
will do things they normally wouldn't do (such as stealing)
they may need help and FRANK can advise you how to go about getting that help for them.
Withdrawal symptoms
Uncontrollable vomiting, nausea / diarrhoea
Loss of appetite
Extreme Sweating
Inability to sleep
Intense cravings for the drug
Depression
Loss of motivation
Psychotic episodes
Suicidal thoughts
Inability to care about consequences
What to do if you or someone else is experiencing withdrawal symptoms
Contact Pavilions for help managing the reduction & symptoms
Inpatient detox is available if appropriate (to be referred via Pavilions)
Community detox may also be available with support from your G.P and Pavilions
If urgent, go to A&E and tell them what you've been using
Drugs and harm reduction
If you're having problems cutting down by yourself, or are concerned about the effect that drug use might be having on you then you can come along to the confidential Drugs and Alcohol drop-in, which runs on Monday afternoons at 1pm in the Student Life Centre. The drop-in is run by Duncan, who is a counsellor on campus so if you can't come to the drop-in you can email counsellingreception@sussex.ac.uk for an appointment.
You can also visit the Student Centre for informal support, guidance and more information.
Getting help on reducing substance use: in Brighton, Hove and Sussex
Change Grow Live provides adult drug and alcohol services for Brighton & Hove. Support is available to anyone concerned about their drug or alcohol use, or for the families and carers supporting those struggling with substance misuse.
You can complete a self-referral form through the CGL website.
Other local and national sources of information and help