Welcome Teams
We have four main student helper teams working across campus during Welcome Weekend and Freshers' Week to help you get around and get involved.
Turquoise team
The University's central welcome team will be wearing turquoise tops, and team members will be posted at key locations across campus throughout Induction Week.
Black team
University-owned accommodation areas on and off campus have Residential Advisors (RAs) allocated to them. RAs are predominantly second and third-year students who have gone through a rigorous selection and training process to ensure that they are able to give ongoing support for new students living in University residences. RAs - who are clearly identifiable in their black tops - will be busy in accommodation areas over Welcome Weekend and beyond to help new arrivals settle in and get involved in social activities.
Red team
The University of Sussex Students' Union also have a large Welcome Team of current students who will be busy distributing information about the Union's range of Freshers' Week events. They will also be working at the events, and running a wide-range of evening entertainment activities in Brighton and on campus. Again, they are easy to spot in their red tops.
Blue team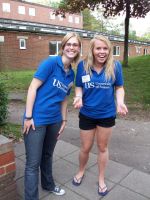 The International Students' Welcome Team (wearing blue tops) will be based in the International Student Support Office on the second floor of Bramber House during Welcome Weekend between the following times:
Saturday 10 September: 10am-6pm
Sunday 11 September: 10am-6pm
From Monday 15 September the International Student Support team will be open as follows:
Monday 12 - Friday 16 September: 9am-5pm
They will also have a team of international student ambassadors (wearing blue tops) located around campus over Welcome Weekend to help new international students settle in.