Your wellbeing: start a conversation
about mental health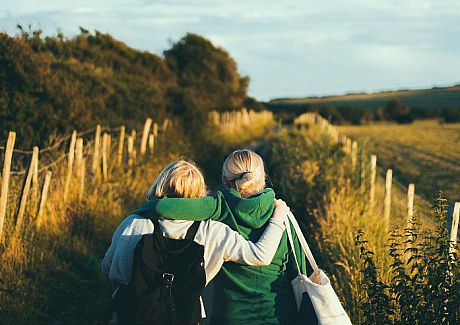 We all have mental health, in the same way that we all have physical health, yet people can sometimes be reluctant to talk about it.
This Thursday (7 February) is Time to Talk Day, an annual celebration encouraging everyone to have a conversation about mental health. It's part of the Time to Change campaign, which aims to break down mental health stigma and discrimination.
Each of us experiences ups and downs in our mental and physical health and wellbeing. Feeling down or stressed doesn't necessarily mean we have a diagnosable mental health condition or disorder, but talking about these feelings can help to:
- break down stereotypes
- improve relationships
- promote behaviours which can support good mental health
- reduce stigma
- make it easier to reach out for support when we need it.
Starting a conversation
There are many different ways to start conversations and take action to improve your own and others' mental health and wellbeing. You don't need to be an expert - it's the little things that make a big difference.
You could make time to go for a walk and a chat, listen to a friend talk about how they feel over a cup of tea, tell someone how you're feeling today, or call someone you haven't spoken to for a while. It might be as simple as asking 'How are you?' and really listening to the answer.
Being open about mental health and ready to listen, or even sharing your own experiences, can make a positive difference to someone else's life.
Every conversation about mental health helps to make it an everyday subject for people to talk about. You can find some tips to get you started on the Time to Talk web pages.
Want to learn more?
- On Thursday, visit the wonderful wellbeing volunteers and Tea and Talk volunteers, who'll be in Library Square with free tea, biscuits and tips for looking after yourself
- Follow Time to Talk Day using #timetotalk
- Visit the Student Wellbeing Team web pages for advice
- Read our Looking after Your Mental/Emotional Health & Wellbeing at Sussex booklet, available to pick up in the Student Life Centre reception
Whatever you're up to, we hope you find some time to talk this Thursday!
The Student Wellbeing Team provide information, resources and initiatives that support you to make the most of your time at Sussex. Find out more at www.sussex.ac.uk/wellbeing
More from Flint
Your Refreshers: find an event
Your studies: deepen your digital skills
Your finances: reflect on how you deal with money
Your finances: see Mariana's tips for veganism on a student budget
Your community: try something new during Student Volunteering Week
Your say: go along to the VC drop-in for students
Your future: sort out your summer
Your arts centre: check out the new Cinema Club
Your future: submit your nomination for a Students' Union role
Your say: final year undergraduates, visit the NSS café
This fortnight's top job opportunities