Health & Safety Covid-19 resources
Details of health and safety arrangements for managing the current Covid-19 pandemic are available below, along with links to other relevant information.

Testing for students and staff without Covid-19 symptoms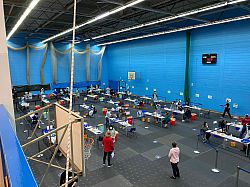 The University of Sussex is part of the Government's mass asymptomatic testing programme (i.e. for people showing no symptoms of Covid-19), taking place at the Sport Centre on campus.
It is important that you take two tests to be as certain as possible that you do not have the virus. Book your tests via this online form.
All University of Sussex students are eligible for a test.
University of Sussex, SEF and Chartwells staff who need to work on campus are all eligible for a test.
Details of when to take a test and their accuracy are available via the Student Hub. See also further information on mass testing and lateral flow devices.
Ventilation of buildings
SEF engineers have rigorously applied all of the available guidance from the government and from authorities on ventilation about how to control the risks of Covid-19 and other airborne diseases. See the University's information about the measures that have been implemented on ventilation systems in campus buildings.
Covid-19 symptoms or self isolation reporting form

This reporting form should be completed by staff and students who develop symptoms associated with Covid-19 or are self isolating on campus.
Return to campus: process and information during Stage 2

Campus re-opening has been taking place across three broad stages:

Stage 1: focused on the initial re-opening of campus over the summer, in July and August
Stage 2: from the start of the 2020/21 academic year in September
Stage 3: postponed

Stage 2 return

The information below relates to the plans in place during Stage 2 of the return to campus. This information will be updated as the University moves into Stage 3.

Working from home

Some staff are still required to work from home and any return to campus will continue to need approval by line managers. It is no longer necessary to complete a return to campus voluntary pro-forma prior to returning to campus.

Inductions

All staff are required to watch an induction video before returning to work on campus. A new induction video has been produced and will soon be available; until then, you can access the previous one using the instructions below.

Go to the University's online learning portal
Click the green button "Login to LearnUpon"
Log in using your ITS log-in
Click "Dashboard" at the top left of the page; then click "Catalog", which will appear below
At the top of the page, search for "Covid" in the "Search catalog" field
This will load the "Safe Return to Campus" video and log your attendance

Postgraduate students, who do not have access to the LearnUpon platform, can access the induction video via the Health & Safety web pages.

If you have any questions after watching the induction video, email healthsafety@sussex.ac.uk

Induction links and additional information

SEF signage catalogue

See the catalogue of available signs for safe working on campus during the Covid-19 pandemic. To request additional signage in an area you control, contact the SEF Service Centre.

Guidance on returning to work in laboratory areas

See guidance outlining the University's policy for enabling research staff to return to work within laboratory facilities on campus. This document complements existing government guidelines on maintaining social distancing measures, to minimise the spread of Covid-19 on campus.

Guidance on return to work plans in office and low-hazard areas

See the University's guidance on enabling staff to return to work in offices and similar working environments.

Guidance on return to work plans in General Teaching Space

See the University's guidance on enabling staff to return to work in teaching spaces.

Guidance on performing arts, recordings or loud vocalisation in teaching

See the University's Guidance for Performing Arts

This includes practical advice for signing; use of musical instruments, microphones, recording studios and camera equipment; outdoor filming; acrobatics, dance and drama; and the use of costumes and make-up.

Guidance on social distancing in specific areas

Coronavirus business continuity guidance

See business continuity guidance, including links to relevent policies, plans and templates as well as external links that may assist staff in the development of their emergency and business continuity plans.
Guidance for specific activities including offices, General Teaching Space and laboratories

Guidance for Offices and other Low Hazard Spaces


Guidance for Researchers on Face to Face work with Human Participants

During the current tier 4 lockdown face to face research with human participants is to be paused. Heads of Schools can authorise the continuation of critical work where required 15/01/2020

Guidance for Close Contact Work
Isolations

Introduction

People enter self-isolation for one of a number of reasons:


They have demonstrated Covid-19 symptoms or have tested positive (10-full days of isolation).
They have come into close contact with, or live with, someone who has symptoms or who has tested positive (14-day isolation).
They have travelled from overseas and are on the Government self-isolation list. The University refers to this group as "quarantine" (10-full days of isolation).


Details of the length of isolations are shown in the charts below.

Self-isolation if you have had symptoms of COVID-19 or a positive test

If you have had symptoms of Covid-19 or a positive test, you may end your self-isolation after 10 days and return to your normal routine unless you still have a high temperature, in which case seek medical advice via the NHS 112 number.

A cough and changes to your sense of smell can last for several weeks once the infection has gone, and it is for this reason that isolation can end.

If you live with others, everyone else in the household who remains well should end their isolation after 14 days. This 14-day period starts from the day the first person in the household displayed symptoms of Covid-19. People in the household who remain without symptoms after 14 days are unlikely to be infectious.

If anyone in the household becomes unwell during the 14-day period, they should arrange to have a test (in on-campus accommodation this will be delivered to your residence). If their test result is positive, they must follow the same advice for people with Covid-19 symptoms (isolation for 10 days from the day on which symptoms developed; if their test result is negative, they must continue with isolation as part of the household for the full 14 days. The isolation period for the rest of the household does not need to be extended; only the person with new Covid-19 symptoms has to stay at home for at least a further 10 days.

Self-isolation if you have contact with someone who has a confirmed case of Covid-19

Only the person who had this close contact with someone who was positive for Covid-19 needs to self-isolate, not the whole of their household. This changes if anyone in the house develops symptoms.

More details on isolations are available from the NHS.

Further information on isolations is available from Public Health England; this includes information on what to do if symptoms persist.
Travel on University business and off-site working

2021 lockdown update

Essential travel on University business can continue for work in line with the governance advice; many regions have tightened their controls on travel from the UK and these should be reviewed prior to undertaking any travel.

Fieldwork for undergraduates should not be continued during this period other than in the local area (for instance in the South Downs National Park surrounding campus) with small groups or pairs. Other trips will need to be cancelled or postponed.

Off-campus work and placements can continue with partner organisations that have suitable covid controls in place. If you are in doubt, contact the partner organisation in the first instance for details of what measures they have taken and/or request a copy of their risk assessment.

Guidance

Members of the University of Sussex carry out a variety of off-campus activities, both within the UK and abroad. This information about travel on University business (including research) will be updated every two weeks following review by the Health & Safety Committee.

Members of the University must abide by any and all local guidance or controls.

As the Coronavirus pandemic continues to develop, permission to resume work off campus can be rescinded due to changes in the local risk.

See information about how to apply for travel insurance.

If you have any questions, or if the type of travel you wish to undertake is not listed here, please email healthsafety@sussex.ac.uk.


This guidance applies only to travel on University business (including research); it does not apply to personal holidays or annual leave.

Please select which option applies to you from the list below.
Working from home

Some staff are still required to work from home and any return to campus will continue to need approved by line managers.

The University has made a significant volume of equipment available to staff. If you haven't already done so, it is important you identify what you think you need to your line manager as soon as possible. IT Services are providing regular updates and posting information on the ITS webpages.

See guidance on how to assess your home workstation.

A template for assessing your home workstation is available.

The HSE has also produced a helpful video on how to set up a work station:
Getting to and from campus

You should not travel at all if you are experiencing any Coronavirus symptoms.

Walking and cycling

You can help control Coronavirus and travel safely by walking and cycling, if you can. This will reduce pressure on public transport and the road network. See information on the facilities for cyclists for University of Sussex students and staff.

Public transport

If you are travelling to or from campus on public transport (bus or train), try to avoid peak times where possible. By law, you must wear a face covering while you are on public transport.

See the latest travel information from Brighton & Hove Buses. A live journey planning tool on their website allows you to see how busy your bus is so you can decide whether to travel or to wait for the next bus instead.

See information from Southern Rail on their response to Covid-19.

Driving and parking on campus

Limit the time you spend at garages, petrol stations and motorway services. Try to keep your distance from other people and, if possible, pay by contactless. Wash your hands for at least 20 seconds or sanitise your hands often, and always when exiting or re-entering your vehicle. You should try not to share a vehicle with those outside your household or support bubble.

See information about driving and parking on campus during Covid-19.
Risk assessment database

As part of the phased re-opening of our campus, risk assessments have been completed for buildings as well as the general use of teaching and office space.

Risk assessments have been reviewed by members of the University's Health & Safety team.

Risk assessments have been completed using a standard 5 by 5 grid which is used to consider the residual risk. This is a recommended approach from the Health & Safety Executive; an example of the grid used by the University is shown below in figure 1.

The severity of the risk has been established as 5 for Covid-19. This is an indication of how seriously the University is taking the pandemic and is based on the fact that in rare cases, Covid-19 can be fatal (Reference). The likelihood for an individual activity has been assigned a value of 1 given the control measures that have been put in place.

The building and general teaching or office space risk assessments have considered the controls in place to reduce transmission by contact, airborne and droplet routes and have taken into account students and staff as separate groups that may be affected. These include

A check on all ventilation systems in accessible areas in line with the guidance from the Chartered Institution of Building Services Engineers (CIBSE)
The installation of one-way systems, classroom layouts and occupancy limits for rooms to enable social distancing
Rules and guidance on the use of face coverings for staff and students
Provision of wipes and hand sanitiser and instructions on their use

In order to ensure that all members of the University are aware of these controls, guidance and video inductions have been produced which should be viewed by all staff and students.

With Covid-19, the hazard is from living in a region where the infection rate is high - not from specific University activity. The University risk assessment process is a check to ensure that we have taken all reasonable steps to ensure that University activities do not contribute to an increase in the rate of infection within the local region.

For School or Divisional activities which go beyond general teaching or office work activity, such as field trips, overseas travel or some research activity, specific risk assessments may be required.

Guidance for specific activities can be found above under 'Guidance for Specific Activities' drop-down option.

A database of building and general risk assessments can be found via the box link below. These can be used for reference when considering risks from planned School or Divisional activities, provide information of other users in each building that may be affected by any changes and enable staff to understand the approach that has been taken to reoccupying buildings. In many cases these are live documents that will continue to be updated and are therefore subject to change. These can be viewed by all staff with a University Box log-in.

Figure 1



Risk assessment database Box link
Reporting estate issues relating to Covid-19

If you have any Covid-19 related issues or enquiries about a campus building you work or study in, you can report them at estates.covid@sef.fm.

We have set up this contact to help prioritise Covid-19 related issues in your building and ensure safety enquiries are attended to first and foremost.

This includes:

orders for Covid-19 related materials, such as Perspex screens
enquiries about social distancing measures and one-way routes
requests for restocking or repairing of sanitiser stations and/or wipes
requests for additional COVID-19 signage or other materials

To report cases of Covid-19, please use the Symptoms or Self-isolation Reporting Form,

For non Covid-19 related issues, the SEF Service Centre remains the first point of contact.
Further information for staff
Further information for students
All returning staff should view the induction video as it explains what steps the University has taken to make campus as safe as possible and what we can all do to support the efforts to combat the pandemic.
To view the video,
Go to the Learn Upon login portal here
Log in using your email address and normal password
View the 'Covid-19:Safe Return to Campus for Staff' induction video, which should be at the top of your course list.
This video can be viewed here.
NHS contact-tracing app
The NHS contact-tracing application is available via Google Play and the Apple App Store.
This is one of the best things we can do as individuals to help control the spread of Covid-19. See more information and details of how to download it.
I am a member of staff or student who is already abroad in their country of residence and wish carry out fieldwork or other activities.