Junior Research Associate scheme for 2nd years
Applications for the 2020 programme will open early in the spring term.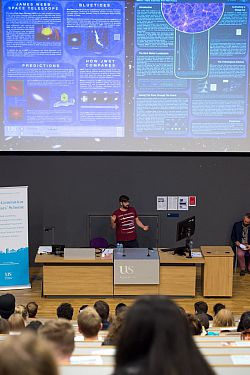 The Junior Research Associate (JRA) scheme helps talented undergraduates who are seriously considering postgraduate study realise this ambition. As a JRA, you will work closely with academic supervisors and mentors on an intensive 8-week research project.
Working on these projects will strengthen your skills and give you an invaluable insight into the world of research. If your application is successful, you will receive a bursary of £2,000 (a £1,800 stipend plus £200 for research expenses) to allow you to work on your research full-time over the summer.
The Junior Research Associate scheme is open to second-year students from all schools and subjects.
Further details and applications
To find out more about the scheme, including examples of previous projects, you can:
Applications will open early in the spring term and all eligible students will be emailed with further details.
NB: programme details are accurate for the 2019/20 academic year but subject to change in subsequent years.
Feedback from participants and previous projects

2017 JRA scheme participant from the School of Philosophy

"As a humanities student, taking part in the JRA scheme confirmed to me the fact that research is not confined to laboratories. I worked on my project by reading, travelling to meet professors and conducting online interviews with my friends and colleagues. I found that being given the time outside of my degree modules to work on my own piece of research allowed me to look at Philosophy from a new, more creative and unconstrained angle.

Six months on, I am working on turning my project into a full paper which I will be presenting at the British Conference of Undergraduate Research in the coming months."

2017 JRA scheme participant from the School of English

"Not limited to BSc degree students (a common misconception), the JRA Scheme will give a bite-sized but hugely filling taste of what you can expect from MA and PhD research, and an amazing opportunity to get paid to research something you love. For me, having the opportunity to spend my summer getting paid to read around dystopian literature was a dream, and the proposition sounded almost too good to be true at the start!

The application process was accessible and non-complex, easy to juggle alongside other deadlines as just a short abstract about my research idea was needed, and the research itself was all done over the summer period, so it didn't interrupt my term-time study at all! For anyone who is planning on staying in Brighton over the summer - may be to stay at your part-time job, maybe you don't want to waste the rent paid on your student digs, or maybe you just want to spend time with your uni friends - this is an opportunity not to be missed.

The research was flexible for me, I was able to work predominantly from home, have meetings with my academic supervisor once a fortnight, still do my part-time job, and I was also able to squeeze in an internship in London and do my research and reading on the commute - it's a hugely flexible opportunity and you get out what you put in! Get paid to research your passion, the experience of working at a postgraduate level, have the opportunity to exhibit your work and present it at conferences, get some research work experience, and also, get something worthwhile out of your summer break!"

Previous JRA projects

If you would like to know what types of projects have been completed in previous years, you can see a list, by school of study, on the research opportunities page.

Click for frequently asked questions

To see the answers to some of the common questions asked by potential JRAs, please see the frequently asked questions page.