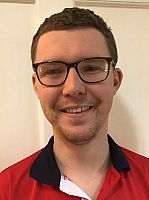 Mr
Timothy Galsworthy
Biography
I joined the University of Sussex in September 2018, where I am undertaking a PhD in History. My doctoral research focuses on American Civil War memory and the Republican Party during the civil rights era. I am interested in how Civil War memory affords interesting and unique perspectives on Republicanism, conservatism, and liberalism during the upheavals of the civil rights period. I am supervised by Prof. Robert Cook and Dr. Tom Adam Davies. I am funded as part of the AHRC CHASE Doctoral Training Partnership.
I am currrently one of two Postgraduate Secretaries for HOTCUS (Historians of the Twentieth Century United States)
I currently serve as Chair for Pubs and Publications. A blog about the PhD experience by PhD students.
Outside of my academic interests, I am also passionate about politics and sport on either side of the Atlantic. I believe I am one of the only rugby league fans at the University of Sussex!
For my eclectic views on my PhD, history, politics, sport, and much much more, follow me on Twitter - @timgalsworthy
My research interests are:
The United States of America
American Civil War memory
Historical memory
Race
Civil Rights
Politics
Museums, monuments, and memorialisation
War and conflict
Qualifications
2018- History (PhD) - University of Sussex
2016-2017 American History (MPhil) - Selwyn College, University of Cambridge
2013-2016 History (BA) - University of Bristol
Activities
Prizes and Awards
William W. Scranton Research Travel Award from Pennsylvania State University (July 2019)
Roosevelt Institute of American Studies Research Grant (April 2019)
Publications
"If Republicans want to be the party of Lincoln, they must follow his lead", The Washington Post, 6 January 2020
Conference Papers and Presentations
Laying claim to Lincoln: Contested pasts and contested presents in civil rights-era America – HOTCUS Annual Conference, Liverpool John Moores University, June 2019
Barry Goldwater, Confederate Icon? Civil War memory, civil rights, and the "Party of Lincoln"– Annual Americanist Symposium, University of Kent, June 2019
"The shadow of Lincoln is still upon us": American Civil War memory, civil rights, and liberal Republicans – HAHP Doctoral Researcher's Annual Conference, University of Sussex, May 2019
The Party of Lincoln? Civil War memory, civil rights, and the Republican Party – BAAS Conference, University of Sussex, April 2019
Rewriting the Gettysburg Address: Civil War memory, the 1964 Civil Rights Act, and the transformation of American politics – Scottish Association for the Study of America Conference, University of Edinburgh, March 2019
Lincoln, Lee, and Black Lives Matter: Coming to Terms with the Past in Donald Trump's America – A "Crisis in coming to terms with the past?" Conference, University of London, February 2019
Whatever happened to the Party of Lincoln? American Civil War memory in the Era of Trump - Democracy and Disinformation in the Era of Trump Conference, University College Dublin Clinton Institute, December 2018
"Lincoln would cry out in pain": Civil War Memory, Civil Rights, and Barry Goldwater's Republican Party- HOTCUS Postgraduate Conference, University of Nottingham, October 2018
Refighting the Battle of Gettysburg: Civil War memory, civil rights, and political rhetoric – War Through Other Stuff Twitter Conference, September 2018
"Emancipation may be a proclamation, it is not a fact": Civil Rights, the Democratic Party, and the legacy of the American Civil War – New Voices in the History of War, University of Oxford, July 2018
"Abraham Lincoln belongs to us": George Wallace and the memory of the American Civil War– American Political History Symposium, University of Glasgow, June 2018
Twentieth Century Democratic Presidents and the American Civil War – HOTCUS Postgraduate Conference, Northumbria University, September 2016
Professional Body Memberships
Historians of the Twentieth Century United States (HOTCUS)
Southern Historical Assocation (SHA)
British Assoication of American Studies (BAAS)