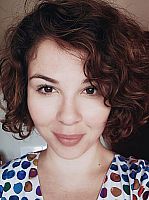 Ms
Manuela Salazar
Biography
I am a Brazilian researcher interested in transdisciplinary research in visual culture, media studies, art history and philosophy. My current doctoral research on photography and the portrayal of material intimacy is the subsequent step after the results of my master's dissertation on the aestheticization of the ordinary in contemporary photographic practices were recently published as a book in Brazil (Mundo Mosaico, 2018, Curitiba, Brazil). I have also worked for more than a decade as a journalist and media consultant for different media outlets, agencies and research groups.
My PhD Research "Through vernacular eyes: photography and the portrayal of material intimacy" is supervised by Prof. Ben Highmore and Dr Ben Burbridge.
I have received a doctoral scholarship from Capes Foundation, a Brazil's Ministry of Education institution.
Role
Doctoral Researcher (Media and Communications)
Doctoral Tutor (Media)
Qualifications
Current PhD Media and Communications, University of Sussex
2014-2016 Masters in Communications (Research), Universidade Federal de Pernambuco, Brazil
2006-2010 BA in Communications - Journalism, Universidade Federal do Paraná, Brazil