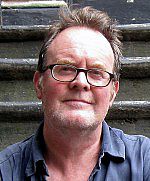 Prof
David Hendy
Biography
David Hendy is an Emeritus Professor in Media and Cultural History, having taught media history at the University of Sussex between 2013 and 2021. Before that, he worked at the University of Westminster in London and held visiting Fellowships at the universities of Cambridge, Yale and Indiana-Bloomington.
He's the author of five books, including Life on Air: A History of Radio Four (Oxford University Press), which won the Longmans-History Today Book of the Year Award, and Noise: A Human History of Sound and Listening (Profile Books), which accompanied his BBC radio series. David's most recent book is The BBC: A People's History (Profile Books) – published in the USA as The BBC: A Century on Air (Public Affairs) – a widely-reviewed 'authorised' biography which appeared in 2022 to coincide with the Corporation's Centenary. His previous publications include Radio in the Global Age (Polity, 2000), and Public Service Broadcasting (Palgrave, 2013).
After studying history at St Andrews and Oxford David joined the BBC in 1987 and spent seven years working as a current affairs reporter and producer on programmes including The World Tonight (BBC Radio 4). In recent years he's returned to broadcasting, writing and presenting a number of series for both BBC Radio 4 and BBC Radio 3. These include Noise: A Human History, a thirty-part series broadcast on Radio 4 in 2013, as well as several editions of The Essay for Radio 3. In 2016, he wrote and presented Langston Hughes at the Third, a 45-minute Sunday Feature which explored the BBC work of the Harlem poet. In 2011, he also co-wrote (with Ade Bean) a full-length Sunday drama for BBC Radio 3 called Between Two Worlds, which dramatised the life of the Victorian physicist and spiritualist, Oliver Lodge.
David's also contributed to academic journals and edited collections on subjects such as broadcasting policy, sound, music radio, documentaries, broadcast language, experimental modernism, and emotions history, and has published short essays and reviews in the Cambridge Literary Review, History Today, Wall Street Journal, Huffington Post, New Humanist, Scotsman, Observer, BBC History Magazine, and History Today.
In 2010 David was elected a Fellow of the Royal Historical Society The following year he was awarded the James W. Carey Award for Outstanding Journalism by the Media Ecology Association of North America, for his five-part BBC Radio 3 series, Rewiring the Mind. He's also held two Leverhulme Research Fellowships.
He currently lives in Lewes, Sussex, and is working on his next book, an account of the secret wartime origins of fake news, which will be published by Profile Books in 2026.
For any enquiries concerning literary or creative work, please contact Caroline Dawnay at United Agents:
https://www.unitedagents.co.uk/david-hendy
Role
Professor of Media and Cultural History, School of Media, Film and Music, University of Sussex
Community and Business
David broadcasts regularly, both as a contrubutor and writer/presenter. He presented Rewiring the Mind, a five-part series for The Essay on BBC Radio 3, co-wrote a drama, Between Two Worlds, which was broadcast on BBC Radio 3 in 2010, and wrote and presented a 30-part series for BBC Radio 4, Noise: a Human History (2013). Most recently, he wrote and presented Langston Hughes at the Third (2016), a 45-minute Sunday Feature about Langston Hughes, and Power of Three (2016), a 70-part series highlighting key moments in the history of the Third Programme and Radio 3 - both for BBC Radio 3. He's also contributed to programmes including Today, Front Row, PM, Feedback, Archive on 4, The Essay, The Listening Service, BBC Breakfast, and BBC News, as well as appeared on WNYC in the US, CBC in Canada, ABC in Australia, France Culture, and RTE. His series Noise: a Human History has been re-broadcast in the US and New Zealand.
David's given public talks at the Prix Italia Festival,Turin; RAI, Rome; the Deutsche-Britische Gesellschaft, Bonn; the Guardian Hay Festival; the Bristol Festival of Ideas; the Edinburgh International Book Festival; the Bath Literature Festival; Field Day London; and the Brighton Science Festival.
In 2015, he collaborated with the composer Claudia Molitor to create Sonorama, a downloadable soundtrack for the London St Pancras to Margate train journey, with an accompanying exhibition at the Turner Contemporary gallery in Margate. He also collaborated with the National Trust on a coastal sounds project, and worked with the US composer Tod Machover (MIT) on a 'Festival City' portrait of Edinburgh.
He is currently represented by Caroline Dawnay at United Agents:
https://www.unitedagents.co.uk/david-hendy