Postgraduate Taught Experience Survey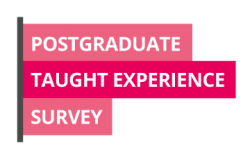 This year, the University of Sussex is taking part in the Postgraduate Taught Experience Survey (PTES).
PTES is a national survey, co-ordinated by the national body for improving teaching and learning in Universities, the Advance HE.
PTES 2021 IS NOW CLOSED
The survey is the chance for taught postgraduates to feedback on their experiences of teaching and learning, to let us know what went well and what can be improved. We need to know what postgraduates think so that we not only address any issues, but also keep on doing the things that work well and are valued by students. It should take students no more than 15 minutes to complete.
The survey is confidential and the results are made anonymous so that no individual can be identified.
Completing the survey
Full-time postgraduate taught students and part-time postgraduate taught students in their second year will receive an email from from the University of Sussex (via JISC) asking them to complete the survey. The email will contain a personal link to the survey which is hosted online by JISC. The survey should take around 15 minutes to complete. Email reminders will be sent throughout the survey window to those who have not yet completed the survey.
Questions
The survey is designed to gather postgraduate student feedback in the key areas of:
Teaching and Learning;
Engagement;
Assessment and feedback;
Organisation and management;
Resources and services, including learning resources and overall support;
Skills development including research skills and career skills
PTES also considers students' motivations for taking their programme and, where relevant, their experience of undertaking a dissertation or major project.
The 2021 survey includes a small number of questions about the student experience during the COVID-19 Pandemic.
Why should students take part?
The Postgraduate Taught Experience Survey is a chance for students to let us know their thoughts about their course. The results help us to make changes that will improve what we do in future and to keep doing the things that students value. We really appreciate feedback from students and this is one way that you can help to improve the experience of future students at Sussex.
Can students opt out?
We strongly encourage students to complete the survey as soon as possible because their experience and views are very important. However, the survey is not compulsory. Students can let us know if they do not want to take part by emailing Denise Cooper in Academic Services.
Results
Over one hundred universities and colleges take part in the survey and the results of institutions aggregated together are published by AdvanceHE.
You can view PTES reports from previous years on Advance HE's website.