Box of Broadcasts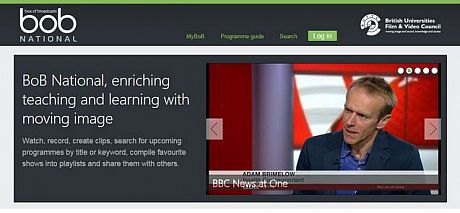 What is BoB?
Box of Broadcasts (BoB) is an online service for off-air recording, media streaming and archiving of TV and radio programmes from all scheduled free to air broadcast channels. It is provided by the British Universities Film and Video Council and available for use to all staff and students at subscribed institutions, including the University of Sussex. BoB provides a facility for recording, creating clips and playlists of programmes which can be watched or listened to in the classroom or from home on either a computer or mobile device. It includes fully searchable transcripts of all programmes and a one-click citation feature which makes it easy to quote and reference material.
There are over 10 foreign language channels, including French, German and Italian and you can link to social media – share what you're watching online.
You can request recordings of programmes which will be broadcast over the next seven days or from the past 30 days. All recorded programmes are stored indefinitely in a shared repository for all users of the service which currently consists of over 800,000 archived programmes dating back to 2007.
Add recordings to Study Direct
When you have located your preferred media, you can view, share, or embed programmes into your Study Direct site or your presentations slides.

Using the Box of Broadcasts service you can:
find specific TV/radio to support teaching
create short clips (and combine clips)
create playlists (a collection of clips for a module)
reference quotes from the provided programme transcripts

A useful feature for teaching staff is the ability to create playlists. You can also search other educators' playlists by subject. Simply use the search box, as above, and select Playlists instead of Programmes & Clips. You can then view other educators' collections for ideas and inspiration.
Academic viewpoint
Rebecca Webb, Lecturer and Course Leader in the Department of Education, has recently started using BoB in her teaching with international students. The TV clips that Rebecca has found have been particularly helpful in teaching international students about the issues in UK education.
'I am so excited about BoB. I am only just beginning to engage with the range of applications but I can see that for my teaching needs with a diverse group of international students, Box of Broadcasts will be another wonderful digital aid. Thanks Tech Team for introducing me to BoB.' Dr Rebecca Webb, Lecturer and Course Leader in the Department of Education.
Here is Rebecca Webb's playlist, below.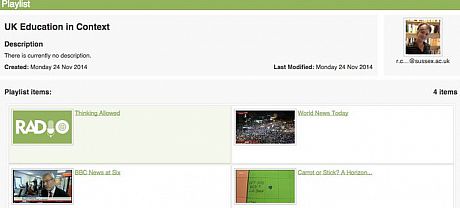 BoB and Study Direct

To add clips to your Study Direct site, select add resources within Study Direct and then choose the upload media function. This will allow you to add the selected TV or radio clip link to your Study Direct site.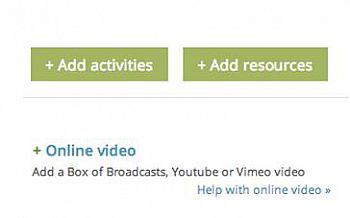 Further support with BoB
Helpsheet step-by-step guide to help members of Sussex staff to log in, search and create clips.
One-to-one for more help with using BoB, creating clips or adding your clips to your Study Direct site or your presentation slide, please contact your school Learning Technologist.