The size and shape of Sussex
Find out about the Size and Shape Programme – helping us get closer to our strategic goals.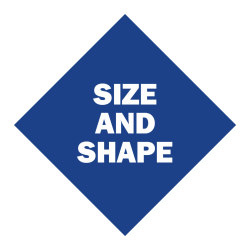 Sussex 2025 and Size and Shape
In Sussex 2025 we set out our strategic aim to "build on our achievements and evolve as a better university, dedicated to making a better world".
When we published our strategy we recognised that "in uncertain and changing times we will need to make tough choices if we are to turn our ambitions into reality. By working towards a shared vision, and having an understanding of our common goals, we will prioritise our efforts".
In our recent Value for Money Policy (which sets out how we will continue to deliver value to past, present and future students and the tax-payer) we reinforce our overall strategic aim to achieve a world-class standard of teaching and research by managing our resources effectively and efficiently. Our aim is to invest as much of our income as we can to ensure that we are delivering the highest quality teaching possible and achieving the greatest impact possible through our research for new times and a new generation.
The Size and Shape programme is an important part of our plans to deliver on our vision and commitments
About Size and Shape
The Size and Shape programme comprises five projects to ensure Sussex can be a University with the best possible environment for research and scholarship and that our education is both outstanding and responds to what students want to study.
It will also ensure that we are able to generate sufficient surpluses to invest in our physical and digital infrastructures and help us get closer to our strategic goals set out in Sussex 2025 and ensure we meet a surplus in 2022.
While it is likely that we will end the 2020/21 academic year in deficit, Council requires the University to return to a comparatively small surplus in 2021/22. This is the minimum we need for the investment the University urgently requires and to enable us to weather any future shocks, of the kind we have experienced multiple times in the past year. To reach a £5-10 million surplus, we need to make savings of around £15-20 million.
No decisions are being made at this stage, but Council (our full governing body) will expect us to bring forward firm proposals at the end of March.
In line with our value for money principles we will ensure we are as transparent and accountable as possible at every stage of the process. We will consult with our community and make sure that we are clear on what we want to achieve and why. We'll prioritise our proposals and match the resources and effort that are required to achieve them to the quality of the outcomes for students and taxpayers.
When plans are being decided on we'll make sure our intended outcomes are clear and once in place we'll continue to measure our performance to make sure we are achieving them, publishing information on our income and expenditure to allow staff, students and the public to hold us to account and challenge the way in which fees and funding are being spent.
Size and shape in detail
View the projects that make up the Size and Shape programme.
These areas of activity are all led by members of UEG, Heads of School and Professional Services Directors.