The size and shape of Sussex
Find out about the Size and Shape Programme – helping us get closer to our strategic goals.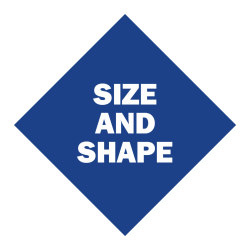 Sussex 2025 and Size and Shape
In Sussex 2025 we set out our strategic vision to "build on our achievements and evolve as a better university, dedicated to making a better world".
This remains our driving force and it is needed now more than ever. We can be pleased with what we have achieved so far, at this mid-point, but we now need to do more to ensure we remain a competitive institution that is recognised for universal excellence in research, scholarship and education.
This is where Size and Shape comes in. We will need to be bold and take difficult decisions but the outcome will be a University in charge of its own destiny, which is exactly what we need to be.
This is much more than just solving a financial challenge – it's about realising our vision. Our plan through the Size and Shape programme is to move away from simply avoiding threats and towards pursuing opportunities. These opportunities are laid out in our new academic vision, which has at its heart a commitment to investing in academic excellence.
Although we need to address our external challenges, we do not want to become a smaller University. This is why we have started a University-wide conversation about the best shape for our University's future. Getting this right is our primary goal. Shape and Size would be a better name for the programme.
This is a once-in-a-generation chance to become the University we want to and ought to be.
Our academic vision – investing in excellence
At the heart of our academic vision is a commitment to invest in excellence. This means refocusing investment and efforts on areas where we are already, or have the capacity to become, externally recognised for the excellence of our research, scholarship and education.
By investing in excellence, we can remain a broad-based institution with strength across the sciences, arts and humanities, and social sciences.
To achieve our academic vision, we must revisit our appetite for cross-subsidy. Traditionally, we have invested when areas have grown but have not reduced in turn areas that have contracted. This results in cross-subsidy and limits the resource available to invest in areas where we excel or have the potential to do so. Cross subsidy can be useful but its future must be framed around investing in successful academic areas that require some level of support to continue their excellence.
This will, in turn, bring long-term benefits to our sustainability and ensure that we are better able to thrive in a highly competitive environment.
Our academic leaders are developing plans that will help us realise this academic vision across our Schools.
Video transcript

CAPTION: A message about Size and Shape from the University Executive Group

STEVEN MCGUIRE: I'd like to thank everybody for their efforts this past year. It's been a year like no other and people have worked very, very hard, and shown enormous resilience and goodwill. Campus is coming back to life, and I look forward to welcoming you back here into Jubilee, and across Sussex. The past year has been difficult, and the operating environment in which universities find themselves is more competitive than ever, and it's important that Sussex prepare itself for the challenges ahead.

KATE O'RIORDAN: Sussex 2025 is the University's strategy. It's all about Sussex. We started the strategy in 2018 and we've delivered some amazing things during that time. We're launching a new Student Centre, we've got the Spirit of Sussex award, we've been moving towards Inclusive Sussex. Sussex is a fantastic institution and we need to be amongst the top 25 institutions in the country, and we know we can be there. Now is the time to take charge of that strategy and really make sure that we move Sussex to be the institution that we know we can be.

STEVEN MCGUIRE: The higher education environment globally is incredibly competitive. International student numbers in the UK are not likely to recover for several years. There are cost pressures as well. Pensions are going up and our fee income from domestic students is going to be flat for the next few years. We're a fantastic university in many respects. We're known throughout the world for some of the quality of our teaching and the ideas that we generate. We should use this opportunity to develop a new Sussex and take the University in different directions.

KEITH JONES: At the heart of Size and Shape, we have an opportunity to craft our own future. We will move away from simply being reactive to threats, to one of taking advantage of opportunities. Those opportunities are articulated within the academic vision of the University.

ADAM TICKELL: The University of Sussex is of course, an absolutely terrific institution. But unfortunately, in the UK context, we are relatively small. This means we just don't have the capacity to invest across the University in the way that we'd like, so the aim of the Size and Shape project is to find the space to invest in areas where we can truly be excellent. I really mean excellent at research, excellent at providing an outstanding education for people, at maximising the employability of our graduates and engaging with our community, whether that's here in Brighton and Hove, or elsewhere in the world.

STEVEN MCGUIRE: So, in this incredibly competitive and volatile environment, we need to make sure we equip Sussex with the ability to adapt. So over the next few months, we'll be having an engagement process where you'll have an opportunity to think about the shape and size of Sussex. We need to future-proof the institution. We have enormous strengths here at Sussex, and it's important we build on those and make the most of the opportunities that are going to present themselves in the next few years.

ADAM TICKELL: This is a once-in-a-generation opportunity for us all to shape the future of the University, and I would really, really encourage you to take part in the engagement sessions.

KEITH JONES: So, have your say, and help us shape the future of the University.

CAPTION: Get involved with Size and Shape this term
About Size and Shape
The Size and Shape programme comprises five key projects to ensure Sussex can achieve its academic vision: to invest in excellence across our research and scholarship and ensure that our education is both outstanding and responds to student demand.
While we have every reason to be confident about our future, this will not be easy. We do not underestimate the concerns that many in our community have.
However, we have the opportunity to make the right decisions now on behalf of generations of students who will come to Sussex seeking an outstanding education and to achieve the breadth of excellent research we genuinely believe is possible.
It will also ensure that we are able to generate sufficient funds for reinvestment in our physical and digital infrastructures and help us get closer to our strategic goals set out in Sussex 2025.
To be clear, nothing has been decided at this stage but Council has given us approval to move into the next phase of drawing up firm proposals, that will take into consideration your feedback.
We will ensure we are as transparent and accountable as possible at every stage of the process. We will engage with our community and make sure that we are clear on what we want to achieve and why.
On Tuesday 13 April, the Chair of Council and the Vice-Chancellor wrote to all staff with the latest information on the programme.
You can read these here:
Size and shape in detail
View the projects that make up the Size and Shape programme.
These areas of activity are all led by members of UEG, Heads of School and Professional Services Directors.