Research news
Junior Research Associate Scheme open for applications
By: Katy Stoddard
Last updated: Wednesday, 16 March 2022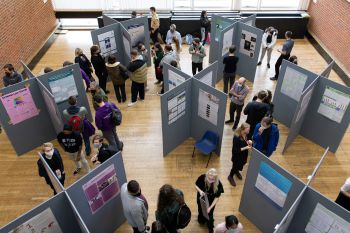 The Junior Research Associate (JRA) scheme is designed to inspire and excite undergraduates about the possibility of postgraduate study, and to give students the best chance of success if they choose to follow that path.
JRAs receive a bursary to undertake an eight-week intensive project over the summer months, working with an academic supervisor and a PhD mentor to gain experience in conducting and presenting PhD-level research.
They contribute to cutting-edge research across all Schools at Sussex, including BSMS, and produce and present an academic poster at the end of the project. Some JRAs go on to publish their research or develop their ideas further through postgraduate study.
The JRA scheme benefits all students who are enthusiastic about a future in research, and we particularly want to make it accessible to students who might not otherwise be exposed to research or consider a research career.
As such, this year we have introduced some changes to the selection process to make it more equitable, including an optional Widening Participation statement for students from under-represented groups to add context to their application. You'll find further details on the JRA website.
Interested in getting involved? The JRA webpages contain everything you need to know about becoming a JRA supervisor. Watch the recording of the information session for the JRA Scheme 2022 to hear from previous JRA students and supervisors on the benefits of taking part. The deadline for student applications is Monday 4th April.

Further information: http://www.sussex.ac.uk/suro/supervisors