News
What makes time fly? Sussex neuroscientists shed new light on how our brains perceive time
By: Alice Ingall
Last updated: Thursday, 14 July 2022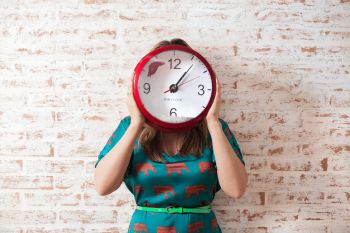 Neuroscientists at the University of Sussex have revealed that the way in which our brain creates a sense of time may be much simpler than previously thought. Instead of being based on some kind of 'clock' in the brain, the research team found that our perception of time passing correlates with what's going on in our senses. The researchers found that participants felt like something lasted longer when their senses – such as vision and hearing – detected more 'happening'.
This new research, which was conceived and co-authored by Dr Warrick Roseboom, a lecturer in Psychology and Informatics at the University of Sussex, in collaboration with lead author Dr Maxine Sherman and colleagues including world-leading neuroscientist Professor Anil Seth, is published in PLOS Computational Biology. The new findings support a novel theory of time perception developed by Dr Roseboom, which proposes that our sense of time varies depending on aspects of experience, such as what we see and hear in that moment or how engaging an activity is.
It comes as a team of University of Sussex scientists, headed by Prof. Seth, launch the world's largest study of perception, The Perception Census.
Dr Roseboom and Dr Sherman's time perception research found that while we use units of seconds, minutes or hours to communicate time to others, the 'units' used by the brain to construct our sense of time stem from perception. This provides a much simpler explanation for how we perceive time than theories based on an inner 'clock', which are dependent on hypotheses about complex brain processes or brain regions specialised for time.
Senior author Dr Warrick Roseboom explains: "This new work is an important step in deepening our understanding of the basis of time experience in the human brain – extending our previous theoretical work by directly looking at brain activity and how people feel about time while they watch videos of natural, everyday situations."
For the study, the researchers analysed activity in sensory areas of the brain, recorded while each participant watched silent videos 8 to 24 seconds long. Half were of an office environment in which little of note occurred, and half of a busy street environment in which there was much more going on. The participants were then asked to estimate how long they felt each video lasted.
The Sussex researchers looked for relatively large changes in brain activity in visual areas – information thought to be the basis for visual processing, and which they now also believe to be the brain's basis for experience of time. The scientists found that when there were more of these changes, such as when viewing the busy street scenes, videos felt longer to the participants. In fact, participants' subjective sense of time duration for each video could be predicted purely from their brain activity associated with processing that video.
Lead author on the paper, Dr Maxine Sherman, Research Fellow in the School of Engineering and Informatics at the University of Sussex, says: "These results are exciting because they demystify how our sense of time arises in the brain – the brain just 'counts' how much 'stuff' has happened, which is very intuitive. I think most of us have had the experience of rushing around or being immersed in thought - it feels like a long period of time, and we're surprised to find out how much we did, physically or mentally, in only a few hours."
The paper, titled 'Trial-by-trial predictions of subjective time from human brain activity' can be accessed here. It builds-on previous research on human time perception from Dr Roseboom. The research paper was co-authored by Dr Maxine Sherman, Dr Warrick Roseboom and Professor Anil Seth from the University of Sussex and Dr Zafeirios Fountas from the Wellcome Centre for Human Neuroimaging, University College London.