Athena SWAN
We are proud to hold an Athena SWAN Silver award, which recognises our commitment to make the school a more inclusive place for students and staff. Find out more about our award, our action plan and how you can get involved.
The Athena SWAN Charter was launched in June 2005 to encourage and recognise commitment to advancing women's careers in science, technology, engineering, maths and medicine (STEMM). Since then, the charter has been expanded to recognise work undertaken to address gender equality more broadly, and not just barriers to progression that affect women. To that end, any references to gender are to be taken as inclusive of all gender identities including, for example, non-binary, fluid and trans identities.
Athena SWAN comprises of three levels of recognition for efforts to advance gender equality: Bronze, Silver and Gold.
Find out more about Athena SWAN
Our Athena SWAN Silver Award
In 2020 we were awarded an Athena SWAN Silver Award.
"This award recognises the commitment to equality, diversity and inclusion throughout our School. We are delighted that both our past achievements and the quality of our future plans for improving gender equality have received this endorsement, and we look forward to making continued progress in this area."
Prof Robin Banerjee, Head of School
Our Silver award application assessed the impact of implementing our Bronze Action Plan, and identified new areas for development. In addition to academics and students, our Silver award submission also looked at equality, diversity and inclusion among the professional and technical services staff in the School.
Our Silver award action plan (2020-2023) is part of the School's strategy and covers areas such as:
Student and staff recruitment

Staff induction

Inclusive teaching

Promotion and appraisal processes

Parental leave

Flexible work
Our Athena SWAN Bronze Award
In 2016 we were awarded an Athena SWAN Bronze Award.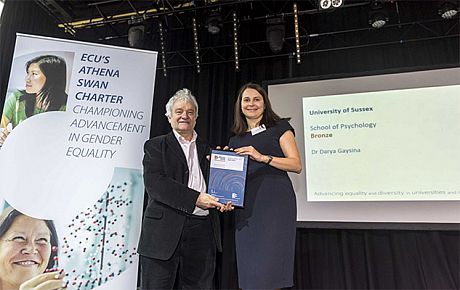 See our Bronze award application
Our Bronze action plan focuses on six key areas:
ensuring women's progression
balancing workloads
looking at networking, mentoring, and information inbalance
reducing salary disparities
increasing flexibility in the workplace
promoting a safe and respectful working environment.
See our full Athena SWAN Bronze Action Plan
You can also see news reports about our Athena SWAN Bronze Award: