News
Violetta's story
By: Emma Wigmore
Last updated: Tuesday, 7 June 2022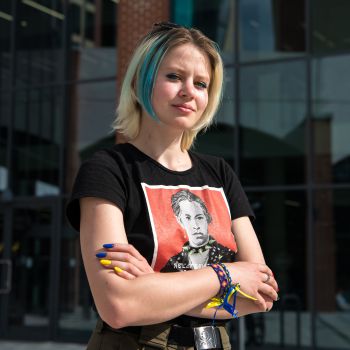 Russian President Vladimir Putin outraged the international community when he launched a full-scale invasion of Ukraine on 24 February 2022. Since that day, ordinary Ukrainians have fought valiantly to preserve their homes, their identity and their freedom. Violetta is from Ukraine. She is a Sussex student. This is her story.
I grew up in a city located between Central and Western Ukraine. My immediate family and my dad's parents live there. Some of my mum's family live in the north, not far from Belarus, which was recently liberated, and some live in the south, which has been occupied by Russian troops since the start of the conflict. All of my family that were in Ukraine before the conflict broke out are still there, apart from my cousin who fled to Europe.
I chose to come to Sussex because I could do an international foundation year, because of the reputation of the physics department and because the campus is conveniently close to an airport that runs regular flights to Ukraine. I particularly wanted to specialise in astrophysics because my physics teacher at school was amazing at teaching the subject.
I hope to have a career in research. This is mainly because I loved the research side of my undergraduate final year project. I have already received an offer to study for a Masters at Sussex and I want to go on to do a PhD if I can find the funding. I promised one of my friends that I would dedicate my first scientific discovery to him, and I can't not keep a promise! I also hope to win a Nobel Prize one day.
I last travelled home to Ukraine during the winter holidays. I am glad I got to spend the Orthodox Christmas with my family. I maintained regular contact after that, but we speak less now than before. It is difficult supporting them when I need support myself.
There was a feeling amongst my friends and family that Vladimir Putin would launch an invasion. It was something that was often discussed in the weeks before the start of the war. Increased shelling in the Donbas region prompted me to start raising awareness of what was going on as well as promoting charitable giving to help my country. Ironically, I made a joke about Putin invading Ukraine whilst playing board games with some friends the evening before the war started. Unfortunately, it turned out to be true.
When I found out about the Russian invasion I was in bed and ready to go to sleep. I had just texted my friend to say goodnight when I received a notification saying that Putin had announced the attack. I immediately called my family to alert them. I felt a mix of intense fear and anxiety. I barely slept at all that night and for the following nights. I had to stay at friends' houses for several weeks afterwards because I didn't want to be left alone. I wore black clothes for the first month to show solidarity with those who had fallen victim to the Russians.
When the conflict broke out I considered returning home to Ukraine to be with my family, but my academic responsibilities and the transport logistics won't allow it. I wake up homesick every day and I find it distressing observing the war and genocide from so far away. I am helping as much as I can but I do get frustrated with every day that the war continues, and I feel helpless sometimes. Whilst I remain in the UK, I want to fight for my country by sharing accurate information, by raising awareness and by communicating the needs of Ukrainians so that they are well supported.
A lot of my friends have fled Ukraine. Most of them had to travel by public transport and, because flights are suspended, it took them several days to get out of the country. They told me that there were a lot of volunteers along the routes out and that they were really kind and helpful. Unfortunately, the humanitarian corridors are also attracting bad people; reports that vulnerable women and children are falling victim to human traffickers are becoming more common.
One of my friends described her journey to safety. She said: "My acquaintances, whom I knew only through the Internet, helped me to leave Ukraine for England under the Homes for Ukraine scheme. I am incredibly grateful to them because not everyone will be able to shelter strangers. At first, I went to Lviv from Donbas for 20 hours. Then by car with friends from Lviv to Krakow. And then by plane from Krakow to London."
Another friend said: "I left Ukraine on March 30. It was very difficult to make that decision because I left my whole family in Ukraine. If you count how long I travelled overall, it took me about two full days. I could not sleep at night while riding the train because it seemed that we were constantly being fired upon."
I have already made use of some of the support that Sussex has put in place for those directly affected by the conflict in Ukraine. My mental health has suffered badly so I am being helped by the Student Life Centre on campus. Plus, because my academic study was severely disrupted by the war, I was granted an extension to the deadline for submitting my final year project. I haven't applied for any hardship funding yet, but I do know that, thanks to the University and its generous alumni, financial assistance is available when I need it.
I want to say thank you to all those who have already donated to the Emergency Ukrainian Students Sussex Fund Appeal. If you haven't yet made a gift, please do if you can – even if it is a small amount, it still helps. If you can't donate there are lots of other things you can do: amplify Ukrainian voices, listen to us, read about the systematic genocide of Ukrainians by Russians. And please don't stop talking about the war in Ukraine? It is really important that the topic stays talked about, we must not forget about it.
I would like to see support for Ukrainian students grow and continue. Sussex is an international and multicultural University, so encouraging a sense of belonging and community as well as providing a safe and welcoming space for everyone, no matter their background or country of origin, is paramount. Sometimes even the smallest actions make a huge difference; one of my supervisors brought in blue and yellow ribbons and we've been making brooches for people to wear. I was really moved by that show of solidarity.
Will you show your support for our Ukrainian students who are suffering unimaginable distress and hardship as the war continues to rage, by making a donation to our Emergency Ukrainian Students Sussex Fund Appeal?