News
University of Sussex to 'twin' with Ukrainian University
Posted on behalf of: Communications
Last updated: Friday, 26 August 2022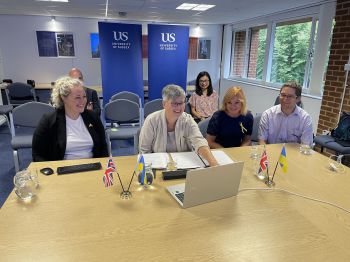 Today, the University of Sussex has signed an official agreement to 'twin' with Ukrainian University Oles Honchar Dnipro National to support students and academics displaced by the conflict in Ukraine. Sussex is partnering with the Ukrainian University to prevent 'brain drain', ensuring that the University can not only survive but emerge stronger from the conflict.
Sussex has now entered a formal agreement along with 71 other Universities across the UK to share resources and support those displaced by the conflict. The formal agreement will facilitate the sharing of resource with Oles Honchar Dnipro National University students and academics gaining access to online courses and teaching materials. They will also have access to Sussex's online library and talks are in place for academics to join research projects.
The scheme has generated huge support since its recent launch by the Cormack Consultancy Group and Universities UK International, with UK universities partnering directly with their Ukrainian counterparts for a minimum of five years.
The University of Sussex's Vice-Chancellor, Professor Sasha Roseneil says: "Over the last six months, we have seen from afar that the people of Ukraine have faced unimaginable devastation and suffering. This agreement with Oles Honchar Dnipro National University will bring our two institutions together to support academics and encourage learning, both now and into the future."
Sussex's Vice-Chancellor and Oles Honchar Dnipro National's Rector Prof. Sergiy Okovytyy signed the Memorandum of Understanding today at Sussex House on the University of Sussex campus. Several Sussex staff members joined to celebrate the occasion along with Oles Honchar Dnipro National University's Vice-Rector for Legal Affairs and Development, Vice-Rector for Research, Acting Vice-Rector for International Relations and Acting Head of the International Relations Office.
Prof. Sergiy Okovytyy says: "During these challenging times, higher education in Ukraine is being seriously affected. We believe that this partnership will be incredibly valuable and will bring us substantial progress and best practices in research and educational fields. I am grateful to the University of Sussex and Cormack Consultancy Group for the efforts and initiatives aimed at supporting our University."