Ticket to Paradise
School of Global Studies, One World Week events 19 - 23 March 2018
Danish title: "Fra Thy til Thailand"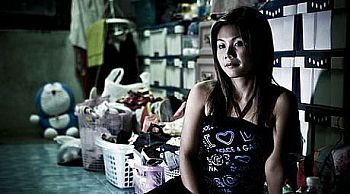 'Thai Wives and Transnational Marriage Migration: the Search for a Better Life': Talk, Film screening and Discussion.
Professor Paul Statham, director of The Sussex Centre for Migration Research introduces Danish filmmakers Janus Metz & Sine Plambech's acclaimed documentary Ticket to Paradise followed by an open audience discussion and Q and A on SCMR studies of the impact on Thai-Westerner relationships on Thai women and their life chances.
In a small village in the north east of Thailand there are two kinds of families. Those who have a daughter married to a Dane, and those who don't. The first mentioned live in concrete buildings, the latter in small wooden cottages. Sommai is the queen of the village. Normally she works at a factory in Denmark. But now she is back in Thailand, where the young girls flock around her. They hope she can help them find a Danish husband. Life in the west, however, has its price and the women often need to make difficult decisions while pursuing their dreams. For the newly married Kae this means that she has to leave her child behind. And for the young girl Saeng, the ticket to paradise is through the sex-bars in Pattaya.
Directed by Janus Metz & Sine Plambech (co-director)
Produced by Cosmo Film Doc
Release year: 2008