Jamal and Alaa
School of Global Studies, One World Week events 19 - 23 March 2018
Jamal and Alaa play traditional Syrian and Arabic Folk songs and have performed together since they met as part of the Sussex Syrian Community Group in January 2017.
Before coming to the UK, Jamal spent over 40 years of his life as a professional musician in Syria, where as well as composing music for TV, he ran a recording studio, played with several bands and lectured in universities as an expert on Arabic music.
He has toured with Damon Albarn, Gorillaz and is a member of the London Syrian Ensemble.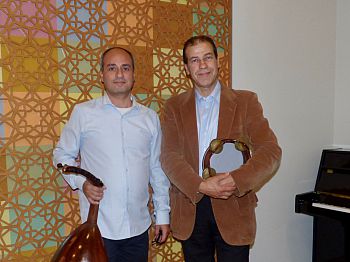 Alaa is from a famous Syrian musical family and has played the Oud and sang for 25 years. Although himself, not a professional musician, he is a well-respected player and is also training to become a translator to help support Syrian refugees settle in the UK.
Together with Best Foot Music, they have released a 7-inch vinyl record and digital download, with all funds from sales going to the Sussex Syrian Community Hardship Fund.
They play regular events around Sussex and the south east of England. In June this year will be at the Southbank Centre as part of Refugee Week 2018.
Jamal - Percussion
Alaa - Vocals and Oud
Website: https://jamal-alaa.bandcamp.com/album/day-night-ep