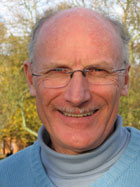 Prof
Ronald Skeldon
Post:
Professorial Fellow in Geography (Geography)
Other posts:
Professorial Fellow in Geograpy (Sussex Centre for Migration Research)
Professorial Fellow of Geography (International Development)
Location:
Arts C C247
Email:
R.Skeldon@sussex.ac.uk

Telephone numbers
Internal:
3437 or 7238
UK:
01273 873437 or 01273 877238
International:
+44 1273 873437 or +44 1273 877238
download vCarddownload vCard to your mobile
Biography
Ronald Skeldon is a Professorial Fellow in the Department of Geography in the School of Global Studies on a 50 per cent basis. He is also Professor of Human Geography at the Graduate School of Governance, Maastricht University in the Netherlands. After taking a B.Sc. (Hons) in Geography at the University of Glasgow in 1967, he completed an M.A. and a Ph.D. at the University of Toronto, with a dissertation on Migration in a Peasant Society: the Example of Cuzco, Peru. He became a Research Fellow at the New Guinea Research Unit of the Australian National University, later the Papua New Guinea Institute for Applied Social and Economic Research, in Port Moresby, 1974-77. He then joined the United Nations, initially as a census adviser in Papua New Guinea, 1977-79, and later as a population expert based in Bangkok, 1979-82. In 1982, he joined the faculty of the University of Hong Kong, where he remained until 1996, leaving as a Professor of Geography. After four years as an independent consultant based in Bangkok working mainly for United Nations organizations, he joined the University of Sussex in October 2000.
From 1 June 2009 to 31 March 2011, he was seconded 40 per cent time to the Department for International Development (DfID) as a Senior Research Fellow. He has continued to work as a consultant to international organizations, including the International Organization for Migration (IOM), the International Labour Organization (ILO), the United Nations Population Fund (UNFPA), the Organization for Economic Co-operation and Development (OECD) the United Nations Population Division and the Social Science Research Council in New York. In 2013, he is working for the Bauhinia Foundation in Hong Kong.
His research is based around issues of population, migration and development, primarily in East and Southeast Asia although, in 2008, he returned to Peru to re-examine changes that had occurred since his research in the early 1970s. His work has focused on migration and development, migration and poverty, the migrations of the Chinese peoples, particularly from Hong Kong, and on irregular movements of migrants in and through Southeast Asia. Other research has concentrated on population mobility and HIV/AIDS in Southeast Asia and on questions of child labour in Asia. At the University of Sussex, he was part of the core team in the DFID-funded Development Research Centre (DRC) on Migration, Globalization and Poverty (2003-2009) with the particular responsibility for the co-ordination of research on skilled migration. More recent work has focused on circular migration, the impact of the financial crisis and migration and climate change.
At the University of Sussex, he is responsible for the final-year undergraduate course, Population and Development and is currently the convener of the annual geography field trip to Vietnam.
Skeldon, Ronald (2012) Going round in circles: circular migration, poverty alleviation and marginality. International Migration, 50 (3). pp. 43-60. ISSN 0020-7985
Skeldon, Ronald (2012) China: an emerging destination for economic migration. Migration Information Source. ISSN 1946-4037
Skeldon, Ronald (2012) Migration transitions revisited: their continued relevance for the development of migration theory. Population Space and Place, 18 (2). pp. 154-166. ISSN 1544-8452
DeWind, Josh, Kim, Eun Mee, Skeldon, Ronald and Yoon, In-Jin (2012) Korean development and migration. Journal of Ethnic and Migration Studies, 38 (3). pp. 371-388. ISSN 1369-183X
Findlay, Allan M, King, Russell, Smith, Fiona M, Geddes, Alistair and Skeldon, Ronald (2012) World class? An investigation of globalisation, difference and international student mobility. Transactions of the Institute of British Geographers, 37 (1). pp. 118-131. ISSN 0020-2754
Skeldon, Ronald (2012) Migration and its Measurement: Towards a More Robust Map of Bilateral Flows. In: Handbook of Research Methods in Migration. Elgar Original Reference . Edward Elgar Publishing Ltd, Cheltenham, pp. 229-248. ISBN 9781849803113
Skeldon, Ronald (2011) Unfree labour, migration and mobility: contested outcomes. Working Paper. University of Manchester, Centre for the Study of Political Economy.
Skeldon, Ronald (2011) Migration in far West Nepal: reflections on movements in and from the region. Critical Asian Studies, 43 (2). ISSN 1467-2715
Skeldon, Ronald (2011) Reinterpreting migration and development. In: Migration in the global political economy. International political economy yearbook . Lynne Rienner, pp. 103-119. ISBN 9781588267627
King, Russell and Skeldon, Ronald (2010) 'Mind the Gap!': bridging the theoretical divide between internal and international migration. Journal of Ethnic and Migration Studies, 36 (10). pp. 1619-1646. ISSN 1369-183X
Ahrens, Jill, King, Russell, Skeldon, Ronald and Dunne, Mairead (2010) Motivations of UK students to study abroad: a survey of school-leavers. Working Paper. University of Sussex.
Findlay, A M, King, R, Geddes, A, Smith, F, Stam, A, Dunne, M, Skeldon, R and Ahrens, J (2010) Motivations and experiences of UK students studying abroad. Project Report. Department for Business, Innovation and Skills, London.
Skeldon, Ronald (2010) Managing migration for development: is circular migration the answer? Whitehead Journal of Diplomacy and International Relations, 11 (1). pp. 21-33. ISSN 1936-3419
Skeldon, Ronald (2009) Of skilled migration, brain drains and policy responses. International Migration, 47 (4). pp. 3-29. ISSN 0020-7985
Skeldon, Ronald (2008) International migration as a tool in development policy: a passing phase? Population and Development Review, 34 (1). pp. 1-18. ISSN 0098-7921
Skeldon, Ronald (2006) Interlinkages between internal and international migration in the Asian region. Population, Space and Place, 12 (1). pp. 15-30. ISSN 1544-8444