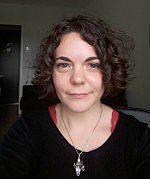 Dr
Julie Billaud
Biography
Julie is originally from Poitiers, in France. She received a B.A (Licence) in Modern Literature from La Nouvelle Sorbonne. She graduated from the Institute of Political Studies in Paris and received a MSc in Social Sciences Research Methods from the University of Sussex. She completed a European DPhil in Social Anthropology and law in May 2010.
Her doctoral project focused on Afghanistan and the new visibility acquired by women in the 'post-war/reconstruction' context. She is now redirecting her research interests on Islam in Europe, looking at the contemporary transformations of the European public sphere through its encounter with Islamic difference. From January 2009 to July 2010, she has been part of the research project 'Islam in the making of the European public sphere', directed by Prof. Nilüfer Göle, from Ecole des Hautes Etudes en Sciences Sociales (Paris). She is currently working with Prof. Jane Cowan on a research project examining the Universal Periodic Review (UPR), a new mechanism of human rights monitoring within the reformed Human Rights Council in Geneva.
Role
Postdoctoral Research Fellow
Julie's Dphil thesis investigates the modalities of Afghan women's re-entry in the public domain in the 'post war/reconstruction' era.
Based on a twelve-month ethnographic fieldwork conducted in 2007 among different groups of women (women MPs, women's rights activists, female University Students) mostly based in Kabul, she studied women's responses to various social anxieties that have emerged as a consequence of this new visibility. She argues that while the current 'reconstruction' project has opened new possibilities for women and created new imaginaries pertaining to their role in society, the ideological framework (i.e liberal notions of equality and human rights etc.) on which it is grounded together with the strong military presence of foreign troops, have fuelled tensions at different levels of the Afghan society. Pressurized by their community to remain faithful to their 'culture', 'religion' and 'tradition' on one hand, and encouraged to access the public and become 'visible' by global forces on the other hand, women have been left with little choice but to adapt and find alternative ways to preserve a sense of autonomy. This study highlights women's 'everyday forms of opposition' (De Certeau 1984) which under the necessary appearance of conformity, allow women to redefine social norms and create new spaces for themselves. More generally, this work studies the conditions of possibility of a feminine political expression through the subversive repetition of norms (Butler 1988) instead of a break up with these norms. Through an analysis of their bodily practices and public performances, she shows how women as agents involved in a project of self-legitimation find their inspiration in culturally intelligible forms.
Key words: nationalism, Islam, gender, veiling, modernity, agency, resistance, rights and the public sphere.
DPhil title: 'Malalay's sisters: Women's public visibility in 'Post-War' Afghanistan' (ESRC scholarship 2005). Research supervised by Prof Jane Cowan (Anthropology) and Dr Charlotte Skeet (Law).
October-December 2008: Associate Tutor, University of Sussex, Brighton, UK.
Understanding Global Cultures: 1st year course for students in Social Sciences.
January-June 2008: Associate Tutor.
Gender across Cultures, 1st year course for students in Social Sciences.
Development and Social Change, 2nd year course for students in Development Studies
Ethnographic Research Methods, 1st year course for students in Anthropology.
September-December 2006: Associate Tutor.
Culture and Development: second year course for students in Development Studies.
How to do Gender Studies?, 1st year course for students in Sociology.