For researchers
Policy@Sussex supports researchers to maximise the impact of their research by providing guidance and connecting them with key decision makers.
Why engage with policymakers?
Engaging with policymaking process is one way to translate your research into action. Policymakers and civil servants seek evidence and information from experts to help inform their decisions, often relying on academic research to highlight problems and propose solutions.
How we can help
The Policy@Sussex team can help you find the right time, place, format, and audience for presenting your research – maximising your impact and ensuring your research is seen an understood by key policy actors.
Our tailored support includes:
Planning policy engagement
Stakeholder mapping
Monitoring opportunities to participate in policy processes
Enabling engagement with Parliament and the civil service
Expertise on communicating your research to policy-focused audiences
Advice on tracking impact and gathering evidence
Planning for policy impact
It's never too early to consider the impact potential of your research. From the outset, you will need to consider:
Why is this topic important now?
How could your research shape policy?
Who are your main stakeholders – who are you trying to influence, who do they listen to, and what relationships do you have with them already?
How can you work with intermediaries, such as third sector organisations or service providers, to help influence discussions and decisions?
How will you measure the success of your policy engagement work?
Elements of effective policy impact and influence
Policy@Sussex can help with all stages of influencing policy – from planning to engaging and monitoring.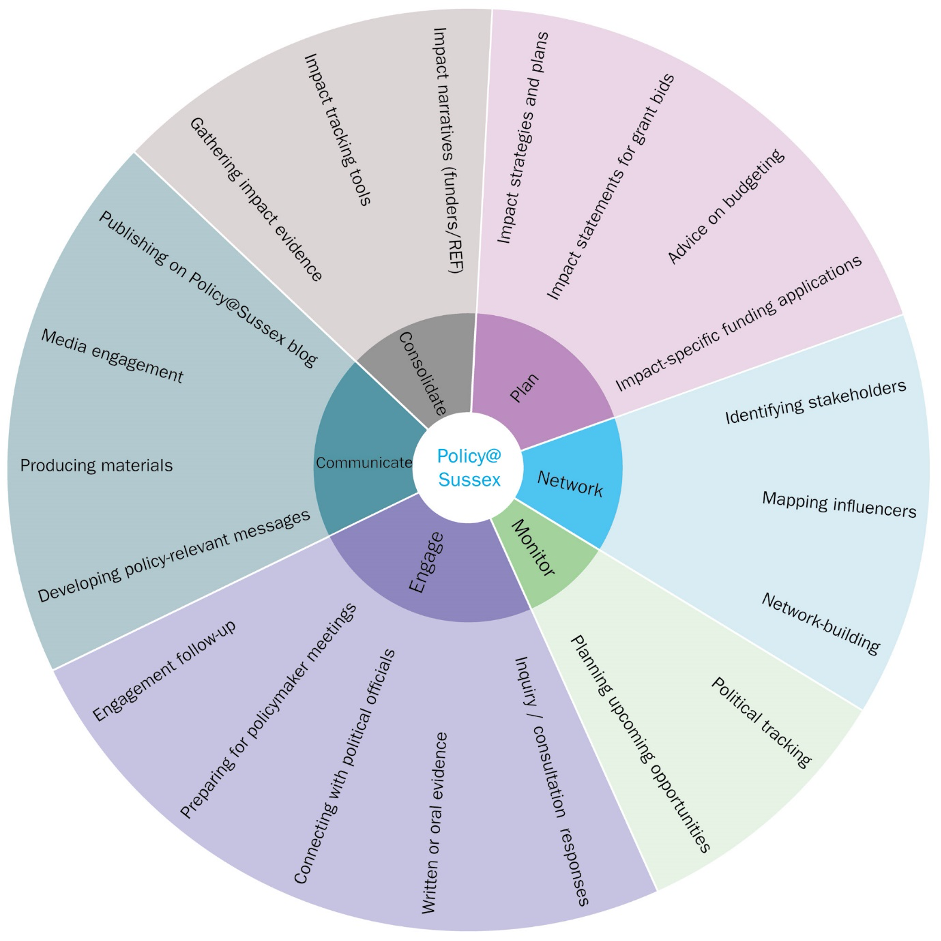 Text alternative for elements of effective policy impact and influence chart (above)

Plan:

impact strategies and plans
impact statements for grant bids
advice on budgeting
impact-specific funding applications

Network:

identifying stakeholders
mapping influencers
network-building

Monitor:

political tracking
planning upcoming opportunities

Engage:

engagement follow up
preparing for policymaker meetings
connecting with political officials
written or oral evidence
inquiry/consultation responses

Communicate:

publishing on Policy@Sussex blog
media engagement
producing materials
developing policy-relevant messages

Consolidate:

impact narratives (funders/REF)
impact tracking tools
gathering impact evidence.
Find out more about key things you can do to influence policy below.
Policy engagement case studies
From protecting freedom of religious belief to exposing the funding of nuclear weapons, read our case studies that demonstrate our success in engaging with and influencing the policy process.