News
Final-year undergraduate? Take part in the National Student Survey
Posted on behalf of: Student Communications
Last updated: Monday, 23 January 2023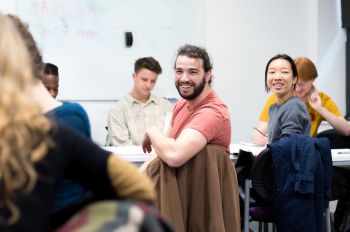 The National Student Survey is now open to final-year undergraduates. The NSS is an external survey, independent of the University, that gives you the chance to tell the world about your time at Sussex.
Managed by the Office for Students (OfS) and run by polling company Ipsos MORI, the NSS is used to assess the quality of your degree as a whole. If you decide to take part, you should think back over all years of your course when responding.
NSS results are made publicly available through the Discover Uni website to help future students make choices about what and where to study, just like you did a few years ago. By taking the survey, you will help to shape the future for many other students.
Plus, if you complete the NSS online by 28 February, you can opt in to a prize draw for one of two £1000 cash prizes. The winner will be randomly picked by Ipsos MORI after the closing date.
For every eligible Sussex student who takes part, we will also be donating £1 to a charity chosen by final-year students. We'll share more information on that soon!
How to complete the survey
You should also receive an email from Ipsos MORI on Thursday 26 January 2023 inviting you to complete the survey.
You will need to use your eight-digit student number, which you can find at the bottom of your student card or on Sussex Direct, and will be asked for some information to verify you're eligible to take part.
It takes around five minutes to answer the core survey questions.
Once you have completed the survey, you will not receive any further contact from Ipsos MORI. If you don't complete the survey, you'll get reminders from Ipsos MORI by email or phone.
In an email to eligible students today, Professor Kelly Coate, Pro Vice-Chancellor for Education and Students, said:
"Thank you in advance for taking the time to complete the NSS. Your views really matter and can help shape the future for many other students."