News
Global Design Challenge to return in January for Engineering and Informatics Students
By: April Yeatman
Last updated: Monday, 9 January 2023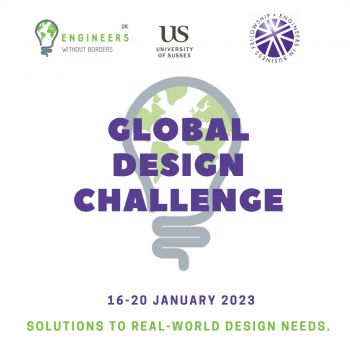 Global Design Challenge (GDC) will return in the January Intersemester Week, Monday 16-Friday 20 January 2023. It is a unique compulsory module for all first-year students in Engineering, Informatics, and Product Design. Students work in interdisciplinary teams to create solutions to real-world design problems and increase their international perspective. These problems require particpants to consider both the technical and cultural dimensions of a design problem in arriving at an appropriate solution.
This year's GDC is centred on Govan, Glasgow. The Govan Community Project is a partner. They are a registered charity who support local communities, with a special focus on support for refugees and people seeking asylum. They aim to achieve social justice in the Greater Govan area, by building a community based on equality, integration, mutual respect and support.
A key feature of the GDC is sustainable development. The GDC uses the United Nations Sustainable Development Goals (SDGs) as a lose framework for the development of ideas. Students will be developing ideas to work towards sustainable solutions in key issue areas: Food, Transport, Digital, Built Environment, Waste, Energy, Water, and Sanitation. This is an opportunity for students to think about solutions in a global perspective - will their solutions contribute to meeting the SDGs globally?
The challenge has a prize fund of £2000 for the winning team! The Global Design Challenge prize fund is very kindly sponsored by Gillian Pearce and the Engineers in Business Fellowship. Gillian Pearce was the first female Engineering graduate from Sussex. The Engineers in Business Fellowship is a registered charity that promotes business education for engineers. The winning project ideas will also get the chance to compete in the national Engineers without Borders challenge final.
This year the school is sponsoring an additional prize in a competition to document students experience with the GDC. Students need to produce a short video, in any format they choose, telling next year's students what to expect from this award-winning module. It could be about the challenge itself, the learning experience, the valuable lessons for your future or meeting new friends to work together. The chosen video will be used in next year's publicity material for the module, and the winning videographer will win a £50 Amazon voucher.