News
Student Society update: Equality in Engineering now Everyone in Engineering
Posted on behalf of: Elizabeth Rendon-Morales
Last updated: Tuesday, 2 August 2022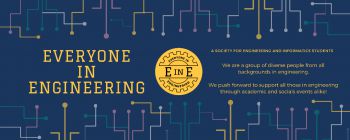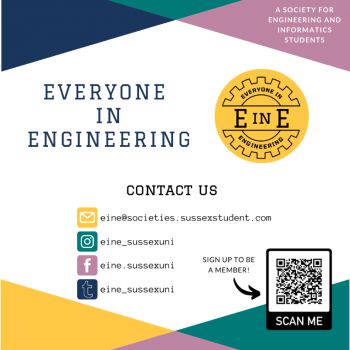 The School of Engineering and Informatics is proud to host the Everyone in Engineering (EinE) society, which encourages participation of underrepresented groups in engineering and builds a supportive network within the school. EinE also organizes workshops and activities and is an official partner of TeachFirst, which is amongst the UK's top organizations in promoting equality in STEM.
The society have a long list of achievements. They, together with Sussex SheCanSTEM society, created a video series of inspiring interviews of our female staff members. They also collaborated with SheCodes.io to promote women to improve their coding skills. Free workshops and discount vouchers from SheCodes.io were provided to participants in a quiz competition organized by the society. In 2021, EinE Society was awarded the most improved society by Sussex Students' Union.
In 2022 the society name was changed to Everyone in Engineering Society. The 2021/22 committee, led by Megan Backhouse, worked to rebrand and reshape the society to promote inclusivity for all engineering students. EinE offers students opportunities to meet new friends, chances to win free access to workshops and conferences, and the chance to win prizes in competitions. To keep up to date with the society, see their Facebook, Instagram, or Twitter. If you would like to get involved, give them a message!
Ferheen Ayaz, EinE Leader, said: "EinE gave me a new perspective to look at current situation of equality and diversity in engineering. It is intrinsically satisfying to work towards this cause. Meeting new people and having fun is a plus." Ferheen has completed her PhD in wireless communication engineering and defended her thesis in February 2022 and she is joining Sussex as Research Fellow. Many congratulations We wish her all the best in her professional career.
Megan Backhouse, EinE Leader, said: "EinE has been a great way to reconnect through this period of online and blended learning. The new committee has been working hard over the summer to rebrand and reshape 'Everyone in Engineering Society' to promote inclusivity for all our engineering students." Megan has recently graduated from her BSc in Electrical and Electronic Engineering and received the Top Year 3 EEE Student Prize. Congratulations Megan!
Dimuth Ponnamperuma, society member, said: "I would recommend joining EinE to any interested students, it is a great place to network and develop industry-relevant skills. The society is rapidly growing, providing members with the chance to be responsible and involved in the society's objective: the promotion of equality within the field of engineering".