Kate Howland
End-User Programming in Situ
Kate Howland was awarded funds to investigate in situ programming interfaces for end-users to define computational rules for context-aware experiences using gesture and voice. The aim of the project was to pilot a novel methodology for capturing natural expression of such rules in context and prototype multimodal interfaces to support Howland in submitting a bid to the EPSRC First Grant Scheme.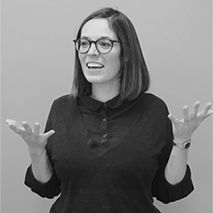 "The RDF funding allowed me to pilot methodology, identify the key challenges, and develop new approaches to solving them. My research plans developed considerably from earlier ideas through the pilot work, and the framing and methodology were improved considerably for the external bid. I was also able to reference the pilot work in the bid, and I believe this helped the case for support. There were positive comments from EPSRC reviewers explicitly on this point. For example:
'I note that pilot work on the methodology and state of the art platforms has already been conducted, which will mitigate risk'
'The methodology and possible technology platforms have been piloted to reduce risk, which shows commitment to the area as well as sound research practice'
'There is pilot work that supports the ability of the applicant to deliver and a history of working on other research grants that suggests that she has the experience necessary to deliver on the promised work.'"
Kate Howland, Lecturer in Interaction Design, Engineering & Informatics
Timeline
April 2016: RDF bid submitted
August 2016: RDF project begins
April 2017: RDF project ends
May 2017: EPSRC First Grant Scheme bid submitted
September 2017: EPSRC bid successful. Value of award £100k
March 2018: CONVER-SE: Conversational Programming for Smart Environments project begins. Will run to February 2019