Help our students get off to a great start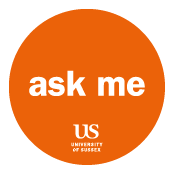 The first few weeks at university can be daunting for many new students. Will you support our students while they're finding their feet?
We have hundreds of dedicated staff working on welcome and induction events but, even if you're not directly involved in these events, you still have a big part to play in making sure our students have a great experience during September.
Having friendly, welcoming staff all over campus who are willing to answer questions, offer a bit of reassurance and point people in the right direction makes such a difference in those important first few weeks. And it has a lasting impact on students' time at Sussex.
Sign up to become an ambassador
Do you want to make a real difference to our students' experience? We need as many people as possible to get involved in the Ask Us campaign.
Wear an orange Ask Me badge and pledge to:
offer a warm and friendly welcome to our new students
be available to answer questions throughout September
get our students off to the best possible start.
Please use the badge from last year if you still have it.
If you don't already have one, from Monday 10 September you'll be able to pick up a badge from all school offices, Sussex House and the SSRO in Bramber House.
A small number of badges will also be available on Thursday 13 September at a staff briefing.
By wearing the badge you're identifying yourself as someone who is willing to answer questions and offer reassurance. You're not expected to be an expert about the University but, with the help of our Ask Me lanyard guides, you should be able to provide an answer or refer people to the right team to help.
Use the lanyard guide containing answers to frequently asked questions, so you can give answers confidently. You can pick up an Ask Me lanyard from your school office when you collect your Ask Me badge.
To help you provide information and guidance to new students, see also our: