Cycling
At the University of Sussex, we care about cyclists and making it as easy as possible for all students, staff and visitors to travel to campus sustainably.
Cycling to and from campus
There are cycle lanes across Brighton, including along Lewes Road (the main route to campus from the city), the seafront, Grand Avenue and The Drive. Many of these routes form part of the national and regional cycle route network.
The local council publishes an online cycle map; you can select the type of route you want to cycle and what you'd like to find on route, including cycle parking, light-controlled crossings, and cycle retail and repair places. More information about cycling in Brighton is available on the City Council website.
The Highway Code clearly sets out rules for cyclists including on equipment, clothing and use of lanes and crossings. It states that every pedal cycle must have efficient brakes and meet the applicable legal requirements. See also Annex 1 of the Highway Code: You and your bicycle. All road users are personally responsible for making sure that their knowledge of the Highway Code is up to date and that they use the road network in a safe and responsible manner.
A map is available to show how long it takes to walk across campus from different locations.
Benefits of cycling to the University
Dedicated cycle paths to campus from Brighton and Lewes
Free showers for all cyclists (including use of the Sport Centre and Falmer Sports Complex showers)
Free parking and numerous parking stands on campus
Helps to keep you fit! Swapping your car for a bike commute has health benefits: lowering blood pressure, improving fitness and even giving you an energy boost. Research at the University of Glasgow found that commuters who cycled were associated with a 41% lower risk of premature death.
Cycling can also help reduce your carbon footprint and save you money - all while avoiding traffic jams.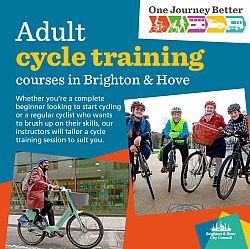 Learning to ride
Brighton & Hove City Council offer free adult cycle training courses to Brighton & Hove residents.
Whether you're a complete beginner that would like to start cycling or a regular cyclist looking to brush up on advanced skills, the council's instructors can tailor a cycle training session to suit you.
To sign up, you must be:
aged 19 or over
a UK citizen, a citizen of the European Economic Area (EEA) or have a Right of Abode in the UK
you must have generally lived in the UK / EEA for at least three years before your first day of learning
The council are also offering special family cycle training on Saturdays, for up to six members of the same household. Booking information is available via the B&HCC sports and events page.
Hiring a bicycle
We are part of the Brighton bike-share scheme. Staff and students can get 10% off an annual membership on Brighton BTN Bike Share.
Up to 430 bikes are available for residents and visitors to hire from hubs and docking stations at 50 locations across Brighton and Hove, including the Sport Centre and Bramber House at Falmer campus. There are also two hubs available in neighbouring Stanmer Park right next to campus.
The scheme offers a range of tariffs to suit both regular and occasional users. Hire costs start from a 3p per minute tariff, plus a £1 unlocking fee (minimum £2 charge).
Staff and students at Sussex can also purchase a discounted annual membership at £65 (a 10% discount), which includes 30 minutes of free use every day.
As a Sussex student or staff member you can enjoy a free ride - sign up with BTN Bike Share with your Sussex e-mail address before 31 August 2022 and enter the code UNI2021; this covers the unlock fee plus one 30-minute ride.
Bike maintenance
The Bike Shack is a free volunteer-run bike maintenance workshop on campus, where you can get help to fix your bike up for free. The Bike Shack workshop is open from 1-3pm on weekdays (excluding Wednesdays) during term time, under the Falmer House arches near the Meeting House.
Alternatively, if you live in Brighton or Hove you can sign up for one of the Council's free cycle maintenance courses; a range of dates are available.
You can also pick up some tips from online tutorials: