News
Our memories are unreliable because we like predictable stories: new Sussex research
By: Alice Ingall
Last updated: Tuesday, 5 September 2023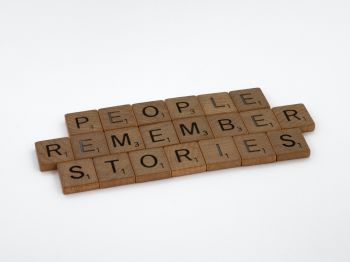 Human memories are unreliable because we like stories with predictable endings, finds new research from University of Sussex neuroscientists.
The researchers found that the human tendency to construct complete storylines, with a clear beginning, middle and end, can lead us to misremember the conclusion of everyday events, and even 'remember' events that never happened.
In conducting the study, Sussex Neuroscience researchers showed 24 videos to 351 participants over five different experiments. Participants saw a selection of video clips documenting everyday human activities, but with the 'end' of each video scenario missing. They were asked to recall what happened either shortly after watching the videos, or a week later. The researchers found that around 42.5% of the time participants falsely recalled the ending of a clip a week later.
The team also found that the types of false memories recorded by participants were often similar. In one video, participants observed a baseball game in which the footage was paused just as the ball was flying towards the batter. After a week, around 20% of participants consistently claimed to have seen the batter hit the ball, some even extending their memory to say he hit a homerun with the crowd going wild, even though they had never actually seen this happen.
Conversely, when video clips ended as expected, such as watching the batter hit the ball at the end of the clip, participants' memory remained fairly intact, developing false memories for only 8.2% of these videos.
The researchers further tested the human bias to remember complete storylines by showing participants videos which included a complete story, and then after it had finished, the start of a new scenario too. They found that a large proportion of the participants (66%) forgot the new scene entirely, which suggests that they had trimmed back their memory to focus on the previously completed event.
Chris Bird, Professor of Cognitive Neuroscience and co-director of Sussex Neuroscience, says
"We were surprised by how often people would fill in the missing endings to the videos they had watched, when they were asked to remember them later. This resulted in memories that contained several details of things happening that were never actually seen.
"Rather than expose faults in how our memory works, our findings actually reveal a memory system that is adapted to the world we live in. We create memories that are coherent and logical 'best guesses' about our experiences. However, there are situations – such as when the criminal justice system relies on eyewitness accounts of events – when accurate memories are absolutely critical."
Dominika Varga, PhD student in the University of Sussex School of Psychology, who worked with Professor Bird and Dr Petar Raykov on the research, says:
"Memories aren't like objective video recordings of the past, but heavily influenced by what we already know and believe about the world. By being aware of these biases, we can be more cautious when relying solely on memories for important decisions and think carefully about information before accepting it as the absolute truth."
The participants in this study were young adults under the age of 35. The Sussex Neuroscience researchers are planning to further these findings by extending the experiments to people of older ages. This will help the researchers to investigate if memory distortions vary with age, in order to help them design tailored memory interventions for different age groups.
On Wednesday 12 July, Sussex Neuroscience was revealed as a Centre of Excellence at the University of Sussex. The 12 Centres of Excellence have been selected by the University as exemplars of best practice, in many cases world-leading research, that address areas of global importance. Each Centre will conduct highly innovative and potentially transformative research that will drive progress and make an important contribution to the planet and its people.
The full paper 'False memories for ending of events' is published in the Journal of Experimental Psychology: General. The paper can be accessed here