All Researcher Development workshops
Year-round training to help you complete your research degree successfully and prepare for your future
RDP workshops for postgraduate researchers (PGRs) are organised by theme, matching Vitae's Researcher Development Framework, which you should use to develop the skills you need to be an effective researcher.
The most in-demand or essential Core workshops run several times throughout the year. Other sessions may only run once or twice in a specific two-month band. This means you can plan your time effectively and focus on particular skills alongside other PGRs, leading to a richer learning experience.
Explore the themes below or browse our scheduled events listings for sessions that are currently open for booking. If a workshop isn't bookable, add your name to the waiting list and we'll let you know when registration opens.
Please note that our scheduled events listing webpage is currently unavailable. See temporary events listing webpage for details of sessions that are currently open for booking.
How does the RDP work?
Workshops are offered either online or in person, depending on the course content. The location will be listed when you register. For online workshops, the Zoom link will be emailed to your Sussex address the day before the session. Bookings close the day before each workshop so you'll need to register well in advance.
RDP workshops are not recorded. If you register for a workshop you are expected to attend, or to cancel your place if you need to drop out. You can manage your bookings in Sussex Direct.
Workshops with fewer than five bookings will be cancelled, with one week's notice, but we'll signpost other resources so you can get the support you need.
The chart below illustrates how the themes fit together month by month, building towards SussexDocFest in June.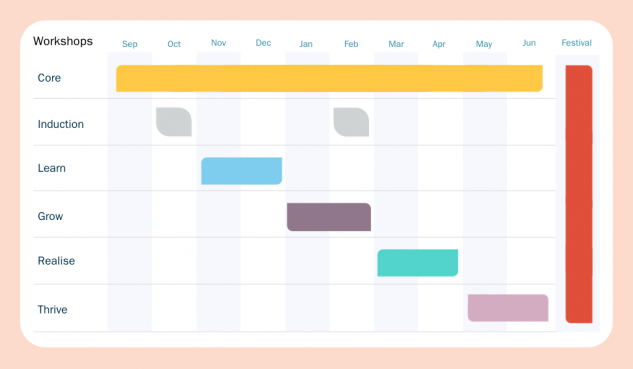 Other training resources
The RDP Online Canvas site includes several session recordings and modules you can work through in your own time. The Doctoral School also subscribes to the UEA Online Training Series, free webinars delivered to PGRs across the UK.
See the online resources page for more information.