Thesis Boot Camp returns this Summer - apply by 2nd July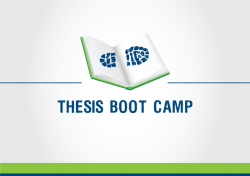 The Researcher Development Team at the Doctoral School are currently accepting applications for the next Thesis Boot Camp, which will take place on Saturday 22nd to Sunday 23rd July.
Day 1: Saturday 22nd July – 09.30 – 18.00
Day 2: Sunday 23rd July – 09.30 – 17.00
Thesis Boot Camp is an intensive and supportive writing environment for late-stage doctoral researchers. The core idea is to give you the necessary time, space, and encouragement to make significant progress on your first draft. It's not designed to provide specific advice on editing, restructuring, or polishing a thesis – the focus is on overcoming writer's block to produce a large number of words.
Support is provided through short tutorials, group discussion, and 1-2-1 consultations with the facilitator. Attendees are required to complete preparatory tasks to get the most out of the weekend.
The weekend is fully catered, but no overnight accommodation is available.
The programme is facilitated by Dr Catherine Pope.
Eligibility criteria
Thesis Boot Camp is a free event provided by the Researcher Development Programme. You are eligible to apply if you are:
A doctoral researcher at Sussex
In the final stages of completing your degree. That is, you have completed data collection (in whatever form is relevant to your project and discipline) and are currently 'writing up'. The ultimate aim of thesis boot camp is to write 20,000 words of first draft material. It is not for editing, revising, preparing presentations or grant applications etc. In other words, you must be able to identify the particular chapter(s) of your thesis that you will work on as part of your Thesis Boot Camp goal.
Able to clearly identify how you would benefit from an intensive weekend of drafting a particular section of your thesis
Willing and able to attend all sessions, to complete preparatory tasks in the lead up to the event, and to commit to the ethos of dedicated writing required at Thesis Boot Camp
Able to provide details of an academic referee to support your application (e.g. your supervisor or Director of Doctoral Studies)
Find out more and apply online by midnight on Sunday 2nd July.