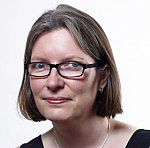 Dr
Catherine Pope
Biography
In June 2014 I was awarded a PhD for my thesis on feminism in the novels of Florence Marryat. My wider academic research interests embrace lesser-known Victorian women writers, such as Rhoda Broughton, Charlotte Riddell, John Strange Winter, and Edna Lyall. I occasionally blog and also run Victorian Secrets, an independent press dedicated to publishing books from and about the nineteenth century.
I'm currently writing a book on Florence Marryat, due to be published by Edward Everett Root in 2018.
Before entering academia, I worked for 15 years in IT and web development. Now I divide my time between the nineteenth and twenty-first centuries.
Role
As part-time Research Staff Officer within the Doctoral School, I am responsible for the training and development of post-doctoral researchers. I usually work on Thursdays and Fridays only.
On the other days, I'm a freelance research and writing skills trainer, offering workshops, webinars and events including:
Using Technology to Manage Your Research
Building Your Academic Web Presence with Social Media
Undertaking a Literature Review (Arts, Humanities & Social Sciences)
Planning, Structuring & Writing Your Thesis (Arts, Humanities & Social Sciences)
Preparing for Your Viva (Arts, Humanities & Social Sciences)
The Part-Time Researcher
Time Management for Busy Researchers
The Thesis, Viva & Beyond
Practical Tips to Improve Your Academic Writing
Working with Your Supervisor
Editing Your Thesis
Thesis Boot Camp
Book Sprints
I blog about technology at www.theDigitalResearcher.com and have published ebooks on Managing Your Research with Evernote, How to Manage References with Zotero, How to Write Your Thesis with Scrivener, and Making the Most of Twitter: A Step-by-Step Guide for Academics.
Qualifications
2014 - PhD Victorian Literature & Culture - University of Sussex
2008 - MA (Distinction) Victorian Studies - Birkbeck College, University of London