Researcher Mentoring Programme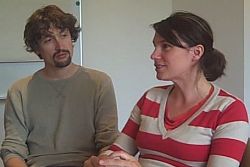 The Researcher Mentoring Programme is a voluntary programme in which research staff provide mentoring for doctoral researchers at Sussex. The programme is innovative in spanning the doctoral divide between pre- and post-doctoral research careers, and in giving doctoral researchers the opportunity to learn from an early career researcher from a different school or discipline. In turn, research staff benefit from an opportunity to mentor three doctoral researchers, which allows them to develop and build on skills and characteristics that prepare them for the possibility of supervising doctoral researchers in the future.
The programme was initially piloted in 2009/10, funded by a Vitae Innovate grant. The Researcher Mentoring Programme has proved valuable to all researchers involved, and is now embedded in our Researcher Development Programme, with a new cycle of mentor / mentee pairings in each academic year.
The Researcher Mentoring Programme January 2013 cycle will launch on Monday 28th January 2013: mentors will attend a full training day; mentees will attend an afternoon induction session.
Becoming a mentee
(for Doctoral Researchers)
Find out what's involved for mentees Applications to become a mentee are now closed. If you would like to join the waiting list, or sign up in advance for the Autumn 2013 cycle, please email Sarah S.L.Robins-Hobden@sussex.ac.uk
Previous Mentees (doctoral researchers) said:
"[The programme] gave me the driving force solving and overcoming problems when I face some difficulties"
"Increased my confidence. Definitely."
"It provided me the opportunity to relate with a senior academic in a non-intimidating way"
"Tips about engaging with contacts from conferences and seminars will help me build a professional network and the opportunities around that."
"Regular contact with other people on the program and dynamic staff leading it."
"It resulted in a small but very significant change in my thesis focus. An independent view of my thesis structure, and a liberating environment to speak confidently."
"It really gave me an insight into school norms and cultures – they can be very different. And therefore, having a mentor in a different discipline has been a great advantage. To see things from a different perspective and ask why are you doing it like that?"
Becoming a mentor
(for Research Staff)
Find out what's involved for mentors and apply to take part in the January 2013 programme cycle
Previous Mentors (research staff) said:
"It has given me the opportunity to learn about students and myself. I like that the programme has embedded support for the mentors."
"I'd emphasise the insight this process can give a mentor of the diversity of ways, approaches and situations in which people do a PhD, and that this is really good training for becoming a supervisor yourself."
"This is formal recognition of skills which are not often explicitly trained for, and good evidence for my CV. I think it's sensible to do this shortly after your own PhD, so you're not detached from the experience."
"What would I say to potential mentors? You don't know how much you have to offer to mentees until you do it. It's gratifying, giving advice [to doctoral researchers], watching them act on it and learn and grow from it."
"[The programme] has increased my confidence in giving support. I can now picture more clearly how I might become a supervisor in the future, which I couldn't imagine before. And the social networking among mentors is good."