Broadcast: News items
Meet George, the sustainable pest control hawk
Posted on behalf of: Sussex Estates and Facilities (SEF)
Last updated: Thursday, 25 May 2023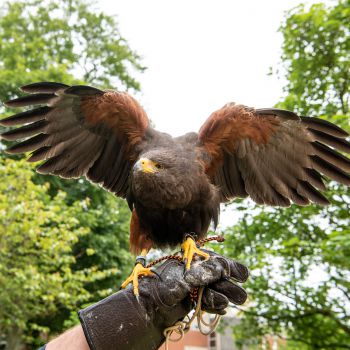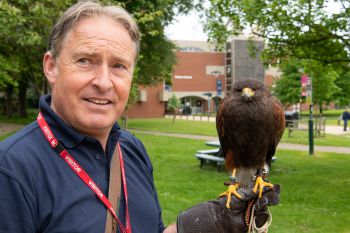 The University is lucky to enjoy our biodiverse surroundings, located close to the sea and nestled in the South Downs environment. However, some wildlife is more disruptive than others and an abundance of seagulls is often an issue on campus. A few among us may have lost a sandwich to a seagull outside Bramber House on occassion.
To keep pests under control in a sustainable and non-harmful manner, we enlist the help of George: a Harris's hawk that is brought onto campus to help discourage seagulls and other local wildlife from disrupting staff and students. The Harris's hawk is native to South America and the southern states of the USA, and is often employed in falconry.
Working with our Grounds and Pest Control team at Sussex Estates and Facilities (SEF), local falconer Gary Railton (pictured here) comes onto campus with George typically in the Spring months, to help reduce the presence of seagulls nesting on campus by sending George out to scout the University from the air.
This method of pest control is designed to be sustainable and has zero harm on local wildlife. Due to a disability (a straight-backed talon on the right foot), George is unable to hunt and discourages seagulls simply via his presence on campus.
Gary and George have provided their services to the University for a number of years, and have returned to campus this year especially to support with the West Slope development, discouraging local wildlife from nesting in buildings scheduled for demolition.
So if you see a hawk flying around the campus rooftops, don't worry – he's just here to keep your lunch safe from thieves.
---
George will feature in the Professional Services Celebration Day taking place on Monday 12 June on campus.