Broadcast: News items
Black at Sussex partners with Culture ConneX for Brighton Fringe Festival events
Posted on behalf of: Internal Communications
Last updated: Thursday, 11 May 2023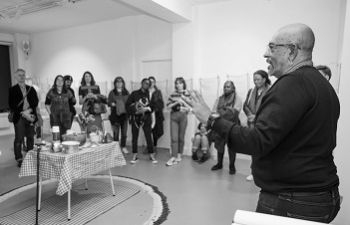 Sussex is partnering with creative arts programme, Culture ConneX, to produce an exclusive series of local, Black-led events at this year's Brighton Fringe Festival. The events programme, which aims to develop opportunities for different communities to access the arts and connect with each other, marks the launch of ongoing collaboration between the University and Culture ConneX.
Combining performances, installations and exhibitions, the events will be hosted at various locations including the Ironworks Studios, Phoenix Art Space and Caravanserai Brighton throughout May 2023. Shows include a nostalgic installation by highly acclaimed writer, playwright and curator and Sussex alumnus, Michael McMillan, a photography exhibition by Sussex PhD student, Tunde Alabi Hundeyin II celebrating Africa as a cultural powerhouse, as well as a variety of panel events, artist discussions and DJ sets.
Michael McMillan held a private view of his installation 'I Miss My Mum's Cookin' on Friday 5 May and you can view the photo gallery. Photo credits: Diensen Pamben @photo_diensen.
David Ruebain, Pro-Vice-Chancellor (Culture, Equality and Inclusion) said:
"I am delighted that Black at Sussex is really flying! It's a tremendously important initiative and I look forward to visiting some of the collaborations in this programme."
Highlights include:
'I Miss My Mum's Cookin' (5 May - 28 May, Phoenix Art Space, free entry)
Writer, playwright and artist/curator Michael McMillan's installation exploring themes of Caribbean heritage, home, food and health. There will also be a workshop run by Michael McMillan on 22 May.
Not A Country (9 May – 21 May, Jubilee Library, free entry)
A photography exhibition from Sussex Media, Arts and Humanities PhD student, Tunde Alabi Hundeyin II, which examines the notion of Africa as a homogeneous geographical entity; instead, it celebrates the continent as a cultural powerhouse. 


First Contact (22 May – 3 June, Jubilee Library, free entry)
A photography exhibition which will feature contact sheets and interview transcripts from Charlie Phillips and Eddie Otchere's ongoing Black at Sussex photography project.


Deep History artist talk with Charlie Phillips (28 May at 1.30pm, Ironworks Studios, £10)
A talk on Charlie Phillips' life in photography - joining the missing threads from Jamaica's independence in 1962 to the present. This event will be introduced by Vice-Chancellor Sasha Roseneil.
View the full list of events for Brighton Fringe 2023 & Culture ConneX Festival.
The events programme is a result of a collaboration between the University of Sussex's Black at Sussex project, Pride Community Foundation and Ironworks Studios. Black at Sussex was first established to help improve the experience of Black students at the University of Sussex through the celebration of its Black alumni and their contribution to British life, alongside a programme of critical discussion about the experience of being a Black student at Sussex.
Jenni Lewin-Turner, Sussex alumna, Director and Creative Producer at UrbanFlo said: 
"There is a profound uniqueness to the Culture ConneX Festival Season for Brighton Fringe 2023 in that it is a locally produced Black-led programme infused with the creative talents of a high calibre delivery team. In addition to showcasing performance and visual arts, it offers a dynamic space for critical debate, networking and career development opportunities. I'm pleased to be working with Black at Sussex in partnership with Brighton Pride and Ironworks Studios to bring this unique vision to life and ultimately, to mainstream diversity within this creative arena."
Professor Sasha Roseneil, Vice-Chancellor, said:
"This latest partnership between Brighton Fringe 2023 and Culture ConneX reflects the rich and dynamic contribution of Black students at the University of Sussex. The Black at Sussex programme is gathering real momentum within Brighton and is a vital part of the University of Sussex community of students and alumni, doing important, future-facing work. I look forward to celebrating as an audience member over the coming weeks and continuing to see the Black at Sussex programme grow and flourish."
You can find out more about our work towards equality on our Inclusive Sussex webpages.