University Opportunities for Researcher Training and Development
In addition to the Researcher Staff Development Series there is a range of further support for training and development on offer to Sussex researchers from teams across the University.
Click on the titles below to explore the range of professional development support on offer to Sussex researchers. To guide you in planning your professional development please take a look at the Research Staff Professional Development Guidance [PDF 1.65MB]
Appraisal

The University runs an annual appraisal process for Sussex research staff. You will meet with your appraiser to discuss progress against your research objectives as well as your career development aspirations and goals.

Appraisal meetings provide an opportunity to reflect on past achievements and identify areas where you hope to develop new skills or take on new opportunities and responsib1lities. Download research staff appraisal guidance and forms.

Coaching and Mentoring

1:1 Coaching

The Research Staff Office offers free 1:1 professional development coaching sessions for researchers. Based on your requirements you may opt for a one-off appointment or a series of coaching sessions. Your qualified coach will work with you to find courses of action that are appropriate to your individual circumstances and will support you in overcoming challenges and achieving your goals. To find out more information or to book a coaching appointment visit the researcher coaching and mentoring webpage.

Mentoring

The Research Staff Office coordinates mixed discipline group mentoring schemes for researchers, where you will have access to mentoring from peers and more senior members of academic faculty from outside your immediate research area. Some schools also offer discipline related 1:1 or group mentoring schemes. For more information visit the researcher coaching and mentoring webpage.

Research Staff Development Series

The Research Staff Development Series is the programme of development events and workshops specifically designed for postdoctoral researchers and research assistants. Events run throughout the academic year and are free to all Sussex researchers. Events and workshops are clustered under the broad themes of:

Career management
Communication and engagement
Managing yourself and others
The research environment and research management
Progression and leadership

For full programme information, workshop outlines and booking information visit the main research staff training and development page.

Organisational Development

Organisational Development provide general training and development courses open to any member of University staff. Courses offered include;

management development
equality and diversity
personal development and effectiveness
professional development
researcher development
Technology Enhanced Learning
Agresso training

For full programme information and booking information visit the Organisational Development website.

Researcher Development Programme

The Researcher Development Programme is a comprehensive programme of workshops, webinars and online modules primarily targeted at doctoral students and also open to research staff. For full programme information and booking information visit the Researcher Development Programme web pages

Teaching courses and qualifications

Academic Quality and Partnerships (AQP) offer two options for development of your higher education teaching skills:

Starting to teach for staff – 6 workshop (15 credit) module is for staff with less than 3 years higher education teaching experience.
Post Graduate Certificate in Higher Education (PGCertHE) – 60 credit course taken part time over 2 years leading to accredited qualification and Fellowship of the Higher Education Academy. Open to research staff that will be undertaking a significant level of teaching and that have approval from their Head of School.

For more information visit the AQP website

Careers guidance

The University Careers and Employability Centre (CEC) offers Sussex researchers free 1:1 appointments with a careers advisor to help you explore future career options or support you in making job applications. The CEC website hosts useful careers related information and resources to support you in taking the next steps in your career.

IT Training

In addition to providing IT advice and support for researchers, IT Services (ITS) also run a full programme of training sessions that range from introductory to advanced level. Examples of training that may be relevant for research staff:

Excel analysing data & pivot tables
Audiovisual training for lecture theatres and training rooms
Building quizzes in Study Direct (the Sussex Moodle-based VLE)
Using teaching pages in Sussex Direct

Technology Enhanced Learning

The Technology Enhanced Learning (TEL) team, based in Essex House, provides proactive guidance, training and support to staff on the effective use of technology to enhance teaching, learning and research. Development workshops cover themes such as:

Interactive teaching and learning
Use of Sussex based technology systems (e.g. e-submission/e-feedback; lecture theatre audio visual equipment)
Creating and using digital resources
Increasing personal awareness of digital technologies

For more information visit the TEL website.

Information and Support for Researchers

The Research, Quality and Impact team helps researchers produce high quality research outputs and achieve real impact in the wider world.

Make sense of the Research Excellence Framework, find out how to achieve impact, and track your impact with some useful tools. Looking for funding? Find out more about grants to help you create more impact.



Research Governance and Integrity

The University of Sussex is committed to promoting and upholding the highest quality academic and ethical standards in all its activities.

The University has developed research governance and ethics policies and procedures which recognise the importance of addressing ethical matters, while supporting the achievement of its collective research objectives.

To this end, robust research governance procedures and policies underpin all research at the University.

Library Research Support

The Library Research Support Team offer bookable 1-2-1s for researchers to discuss how the resources available through the Library and The Keep can support their research. They also support the University's approach to research data management and Open Access publishing and host regular seminars and events on subjects from bibliometrics to developments in scholarly publishing.

The Library Research Support team can offer guidance on Open Access (OA) publishing including how to meet the requirements of your funder, and to be eligible for the post-2014 REF. They administer funds given to the University by RCUK and the Wellcome Trust to support Gold OA – find out what your funder requires and how to access the funds at the Open Access webpage.
Vitae
The University of Sussex is a member of Vitae, the UK organisation dedicated to the supporting the professional development of researchers. As a Sussex researcher you can register to the Vitae website with your Sussex email address to access a wealth of content and resources to help you at every stage of your research career. Information and guidance includes:
The Vitae Researcher Development Framework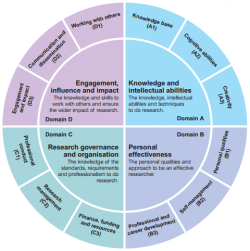 The Vitae Researcher Development Framework (RDF) is a tool to help you identify strengths and prioritise your professional development.
Contact Us
E: researchstaffoffice@sussex.ac.uk
T: 01273 877979
Research Staff Office, Research and Enterprise Services, Level 1, Falmer House, University of Sussex, BN1 9QF

@SussexResearchr