Training and Development
All Research Staff Development Series events are run by the Research Staff Office and are free for University of Sussex staff to attend.
This academic year (2020/21) our training and development events have been tailored into an online programme are grouped into the following themes:
You can also browse our listing of events coming up.

Preparing for leadership & management
Improving your communication & writing
Personal effectiveness
Career Development
Understanding the academic context
Data Management Skills
Other opportunities for research staff training and development


---

In addition to the events on offer through the Research Staff Development series, research staff are eligible to attend training and development workshops and events provided by:
Vitae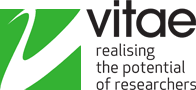 Vitae is an international programme led by the UK charity, Careers Research and Advisory Centre, working to enhance the potential of researchers.
Vitae's website has many useful resources and all our staff and students get full access to the Vitae website and resources if you register with your Sussex email address.
University commitment to supporting researcher's development

The University of Sussex is committed to supporting the development of its researchers and holds the European Commission's 'HR Excellence in Research' award. This award is in recognition of our commitment to supporting research staff and to implementing the Concordat to Support the Career Development of Researchers [PDF 2.70MB]

Contact Us
E: researchstaffoffice@sussex.ac.uk
T: 01273 877979
Research Staff Office, Research and Enterprise Services, Level 1, Falmer House, University of Sussex, BN1 9QF

@SussexResearchr