Careers
Careers Support for Research Staff Includes:
Coaching and mentoring
The Research Staff Office provides free one-to-one coaching, and also co-ordinates group sessions.
Self-appraisal
If you are interested in finding out more about yourself you may want to use one of our personality tests which are available to Sussex staff and students. The Careers and Employability Centre has a licence to use a web-based assessment tool – 'Profiling for success'. Feedback is emailed to you almost immediately and is full and detailed. (But do not use a Hotmail account as this will not work). Find the link and access codes on the Interests and Motivations page.
Career Planning Tool
This web-based resource is designed to help research staff identify and pursue their career goals. You'll be guided through deciding what you want, assessing your current skills, and developing a plan for further training.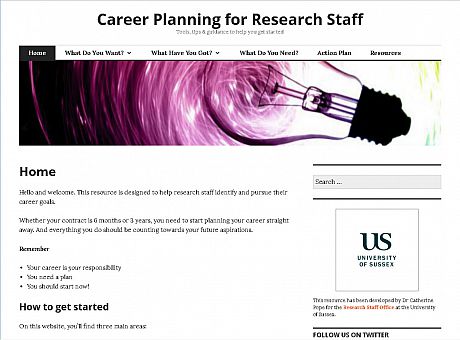 Events
The Research Staff Development Series includes a number of career development workshops, including:
Where are my Strengths? Identifying Values and Talents to Make Satisfying Career Choices
Careers Beyond Research: Applying your Skills Outside Academia
Thinking Creatively About Your Career: How to Identify, Develop and Market Your Skills as a Freelancer
Aiming for Promotion at Sussex

Feeling Empowered at Work: Building Self-Awareness and Confidence to Reach your Goals
For forthcoming dates, please check the listing.
How to Develop Your Independent Profile
Useful Resources
Job Search Websites

Research Staff Career Resources

Other Resources

Researchers Guide to the Careers and Employability
Centre

Vitae Career Information and Resources

An Academic Career - information for researchers
persuing an academic career path
Contact Us
E: researchstaffoffice@sussex.ac.uk
T: 01273 877979
Research Staff Office, Research and Enterprise Services, Level 1, Falmer House, University of Sussex, BN1 9QF

@SussexResearchr