News
Final phase of Refectory Road improvements to begin
Posted on behalf of: University of Sussex
Last updated: Thursday, 22 July 2021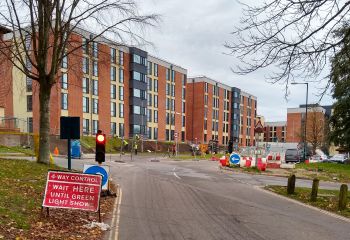 The final stage of a programme of improvement works to one of the main campus roads is due to start this week.
A significant amount of work was carried out to create a new road layout on Refectory Road after the new East Slope Road opened.
Now the latest, and final, phase of the programme will provide a pedestrian crossing in Refectory Road, upgrade some pavements and improve street-lighting.
A pedestrian crossing will be installed across Refectory Road, next to the Health Centre. Access to the Health Centre will be maintained at all times.

The existing street-lights along the west side of Refectory Road will be brought back into use. Excavations will be dug to install new electrical supplies to the street-lights and new, efficient lights will be fitted to the top of the poles.

The pavement to the north of the Health Centre will be widened and a new footpath will be created along the west side of Refectory Road.
The section of Refectory Road north of Norwich House Road will be closed during these works, from Friday 23 July.
Local diversions for pedestrians will be in place and will be signposted throughout.
Temporary lights, signs and barriers will be gradually replaced with permanent equipment, finishing in September 2021.
The works are scheduled for completion by Welcome Week and the start of the autumn term.