News
Path to be upgraded between Falmer and Woodingdean
Posted on behalf of: Transport
Last updated: Tuesday, 9 March 2021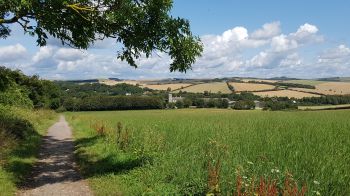 The pedestrian and cycle path between Woodingdean and Falmer will be closed for up to 14 weeks from mid March while refurbishment works take place.
The existing limestone path, which has eroded and become uneven since its installation in 2013, will be replaced with a smooth surface that is resistant to water erosion.
As part of the upgrade, due to start on Monday 15 March, overgrown vegetation will be removed and signage will be improved.
The 2.5km path next to Falmer Road is a popular route for University of Sussex students and staff, providing a traffic-free link from Woodingdean to campus.
The refurbishment project is a partnership between Brighton & Hove City Council (BHCC), East Sussex County Council (ESCC) and the South Downs National Park Authority (SDNPA).
Once the work is finished, East Sussex County Council will adopt the path as a legal right of way.
Brighton & Hove City Council is currently consulting on temporary cycle lanes in the city and its plans to extend them, as well as to make other improvements to cycle routes. Until Sunday 14 March you can have your say on the proposals for Western Road; Preston Circus to Patcham roundabout (A23); Old Shoreham Road (A270); and the seafront (A259).