ID cards
All new staff and students, and returning students who have re-registered with the University, are entitled to a free University ID card. All students are required to carry an ID card as it is the only means of access to the University Library, and is required identification for students sitting unseen exams.
To maintain safe working conditions for staff, the ID card service is currently closed to all walk-in customers.
New and returning students requiring an ID card should visit the Registration web pages for guidance. For enquiries regarding lost or stolen ID cards, please email printunit@sef.fm.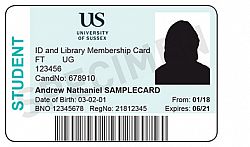 Due to the Covid-19 pandemic, the process for issuing ID cards to students and staff has changed for 2020-21.
New and returning students should complete their registration online. When registration is completed, ID cards will be issued by the Student Systems and Records Office and posted to the student's nominated address. Registered students who have not received their ID card when they have arrived at the University should contact Student Systems and Records.
Staff and students in need of a replacement ID card (if theirs has expired, or has been lost or stolen) should contact the Print Unit.


Replacing lost or stolen ID cards
Please email printunit@sef.fm if your ID card has been lost or stolen. ID cards will only be deemed to be stolen on presentation of a valid police crime reference number.
Stolen ID cards will be re-issued free of charge.
Lost or damaged ID cards will be charged at £10.00 per card. Payment is currently by credit or debit card only: we can take payment by telephone between 9.30am and 12.30pm, Monday to Friday, on 01273 678216 (or extension 8216 if using an internal phone). Please have your Sussex username to hand when you call as it helps us to locate your student record.
Replacement ID cards will be dispatched via internal mail for students resident on campus, or by post to off-campus requestors.