ID cards
All new staff and students, and returning students who have re-registered with the University, are entitled to a free University ID card. All students are required to carry an ID card as it is the only means of access to the University Library, and is required identification for students sitting unseen exams.
Normal opening times for the ID card drop-in service are:
Monday-Friday, 9.30am-12.30pm and 2.30-4.30pm
Staff and studen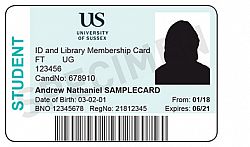 ts who require a new or replacement ID card may obtain one by attending in person at the above times/venues.
At certain times of the year, for example when we are producing exam papers for mid-year and year-end assessments, opening times are subject to revision. Current opening hours are advertised on the Print Unit main web page and on this page in the ID card service news box. We are not open for the issuing of ID cards outside these hours except by appointment, so we advise you to check here before attending in person.
During Registration at the start of the autumn term, the ID card service temporarily relocates to the Registration venue (usually Bramber House). At all other times it is located in the Print Unit. Those who do not collect their ID cards during Registration can make use of our drop-in service.
Please note: we can only issue an ID card if the issuee is fully registered to study or work at the University. Where applicable, fee clearance must have been obtained, and visa clearance in the case of some international students. If you aren't fully registered, we cannot issue you with an ID card.


Replacing lost or stolen ID cards
You can use the drop-in service to get a replacement ID card if yours has been lost or stolen. ID cards will only be deemed to be stolen on presentation of a valid police crime reference number.
Stolen ID cards will be re-issued free of charge.
Lost or damaged ID cards will be charged at £10.00 per card, payable on collection. We can accept payment in cash but card payments are preferred. Please note that we can not take payment from your student account.
All ID card enquiries to Keith Hunt.