Media, Film and Music Resource Centre
All MFM students have access to our exclusive resources. These include a collection of over 5000 feature films, documentaries, television programmes and many music CDs and scores. These resources have been established primarily to support particular modules which run each term, but also in order to offer students a chance to explore and widen their existing knowledge in these areas.
Collection

We have a very diverse collection; ranging from early films, which announce the birth of cinema, to contemporary international films. We have a comprehensive collection of French, Spanish, Indian and British films which have grown from our national cinema modules.
We also have an excellent collection of avant-garde and experimental films, film-noir and musicals. Amongst all of this and more, we have a core collection of classic Hollywood titles.
Borrowing resources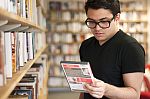 Students may borrow up to four non-key screening films for up to one week. Key screening films are available to borrow overnight or over a weekend. We have four viewing stations where students can independently watch and study films, in a quiet environment. We also have a large Ultra HD screen where up to four people can watch films together.
Online viewing
Aside from this physical collection, students also have access to thousands of UK broadcasts films, television and radio programmes to watch or listen to online via 'Box of Broadcasts'. Users can keep programmes they have recorded in their own archive ("My BoB") to watch again in the future and there are even editing tools, giving the option to make and keep clips from longer recordings. The service is available for academic use - staff or students at Sussex can simply login with their ITS username and password. You also have access to 'Kanopy' which provides an on-demand streaming video service for educational institutions that offers access to more than 26,000 films each year.
The Resource Centre is located on the third floor in Silverstone Building, room 302.

Open from 11am to 3pm on Monday, Tuesday, Thursday and Friday