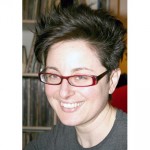 Dr
Aristea Fotopoulou
Role
Dr Aristea Fotopoulou works at the intersections of media & cultural studies with science & technologies studies. She is interested in critical aspects of digital culture, emerging technologies and social change, in network politics, and feminist/queer theory. She has written about digital networks and feminism, and recently on information politics and knowledge production, and on citizen media and digital engagement.
Between January 2014-May 2014 she is Visiting Scholar at the Research Center Science and Justice, UCSC, focusing on digital health and algorithmic living, and practices of data sharing in relation to the Quantified Self phenomenon (Tracking personal data project funded by RCUK Digital Economy NEMODE +).
As postdoctoral researcher based in the Department of Media and Film, University of Sussex, she works on a technological assessment of new emerging technologies, with a focus on media and digital culture, since January 2013. Her work is a media analysis of smart grids, wearable sensors and in-vitro meat for the technology assessment project EPINET (Integrated Assessment of Societal Impacts of Emerging Science and Technology from within Epistemic Networks, FP7-SCIENCE-IN-SOCIETY-2012- European Commission) (with Kate O'Riordan).
She is Research Co-investigator in the project Sustaining networked knowledge: expertise, feminist media production, art and activism, funded by the Digital Economy 'Communities and Culture' Network+ (with Kate O'Riordan). The network brings together feminist cultural production, art and activist practices and enables exchanges between different researchers, activists, artists and dimensions of community. It aims to produce a sustainable co-created platform for critical and creative conversations about digital engagement.
She has just completed work in Storycircle (Framework for Innovation and Research in MediaCityUK (FIRM), an action research project which focuses on the social and digital conditions for narrative exchange and knowledge production (PI Nick Couldry, University of London, Goldsmiths College, Department of Media and Communications). She has also been involved as Research Assistant in the Horizon Scoping Study Digital expertise, literacy and knowledge (funded by the Digital Economy Communities and Culture Network+/EPSRC, PI Caroline Bassett). This project considers questions of digital literacy and, more broadly, questions of digital engagement and the kinds of expertise that are necessary to access/enable engagement.
Her thesis 'Remediating Politics: feminist and queer formations in digital networks' (2012) examined the possibilities and foreclosures for gender politics in digital environments today. It mapped forms of political organisation and knowledge production to indicate how understandings of the political and older debates around gender and sexuality are being reformulated in digital networks. Fotopoulou's earliest work explored blogs of disabled women, and methodological issues in queer studies and intersectionality. She taught in the School of Arts and Media at the University of Brighton between 2010-201, and teaches in the School of Media and Film, University of Sussex since 2009.
SELECTED RESEARCH AWARDS, FELLOWSHIPS & PRIZES
2014 RCUK Digital Economy NEMODE +, Tracking biodata for research purposes: ownership and sharing.
2014 Visiting scholar, Research Center Science and Justice, University of California, Santa Cruz.
2013 EPSRC/ CCN+, SusNet - Sustaining Networked Knowledge: Feminist Media, Art and Activism - Research Co-Investigator, with Kate O'Riordan (P.I.)
2012 EPINET Integrated Assessment of Societal Impacts of Emerging Science and Technology from within Epistemic Networks. FP7-SCIENCE-IN-SOCIETY-2012- European Commission. Research Fellow, PI Kate O'Riordan.
2010 FWSA shortlisted Essay Awards.
For more information please visit the research weblog Looping Threads or Academia.edu profile.
Activities
Aristea acts as co-editor of Ada Journal of Gender, New Media, and Technology Issue 4: Queer & Feminist Digital Media Praxis. As ECREA Young Scholars Network (YECREA) representative for the Digital Culture and Communication (DCC) section, she organised the YECREA meeting in Bonn, themed 'Planning a non-conventional academic career in digital culture and communication: Challenges and opportunities' (2-5 October 2013).
Community and Business
Involved in the organising of the community/academia focused events:
Media pieces
Fotopoulou, A (2012) Book review, Gender, media & Cultural studies text book supplement, Times Higher Education, November 2012.
Cover Artwork for Rethinking Sex, special issue of: GLQ: A Journal of Lesbian and Gay Studies, (Volume: 17, Issue: 1, edited by Ann Cvetkovich, Annamarie Jagose, Heather K. Love). January 2011.
Professional Membership
Upcoming talk and conference papers:
'All these emotions, all these yearnings, all these data': platform openess, data sharing and visions of democracy, at Center for Cultural Studies, University of California, Santa Cruz, 5th February 2014


Smart Publics? Public engagement with science and technology, at University of Sussex, 6 December 2013. Co-organised by Publics Now, Then and Beyond Network, (Open University) and Sussex Public Culture Hub.
Storycircle: The Materiality of Voice (co-presenter with Nick Couldry, Richard MacDonald, & Hilde C. Stephansen), at ZeMKI research seminars, Centre for Media, Communication and Information Research, University of Bremen, 28 November 2013
Selection of Past Conference Papers:
Imaginaries of Smart Grids: Public Issues, Contradiction and Controversy at 4S Annual Meeting (Society of Social Studies of Science), 9-12 October 2013, San Diego, Panel:

Imagining Public Issues in the Technosciences

.
"You can see the wonder in their eyes, and the world is opening up": The social dimensions of digital expertise for older and partially blind people. Panel Expertise with/in Digital Media, at World Social Science Forum 2013: Social Transformations and the Digital Age, October 13-15, 2013 in Montréal, Canada.
Susnet Project: Sustaining Feminist Networked Knowledge Production, at Digital Culture and Communication Section Workshop ECREA, Bonn, Germany, October 2013
Digital and networked by default? Feminist politics media lived at Queer, Feminist and Social Media Praxis, University of Sussex, 17 May 2013.

Publics then, now and beyond workshop, The Open University, 4 – 5 June 2013.
Digital Citizenship, Narrative Exchange and the Changing Terms of Civic Culture (Storycircle Project) at Citizen Media: New Mediations of Civic Engagement, 13-14 |June, University of Manchester
Telling the story of the stories: imaginaries and materializations of digital engagement, at ICA 2013 London (International Communication Association), 20 June 2013, Panel The Materiality of Voice: International Perspectives on Digital Storytelling Practice.
Feminist spaces and digital methodologies: Mapping the issue of reproductive technologies as a social controversy, at the FWSA 2013 conference 'The Lady Doth Protest: Mapping Feminist Movements, Moments and Mobilisations', 21 – 23 June 2013 (Feminist and Women's Studies Association, UK & Ireland).
Network media and queer communities: local and cosmopolitan at the 4th European Communication Conference, ECREA Istabul 2012.
Feminist identities and network narratives, at the 9th International Conference Crossroads in Cultural Studies, Paris, France, from July 2nd to 6th, 2012, hosted by Sorbonne Nouvelle University with the support of the French National Commission for UNESCO.
Digital networks and women: emerging political subjectivities in a time of crisis, at the workshop Articulating alternatives: agents, spaces and communication in/of a time of crisis, in Centre for the Study of Global Media and Democracy, Goldsmiths, University of London, 3 May 2012.
Materialising practices: The embodiment of politics in digital networks, at the MeCCSA 2012 Conference, University of Bedfordshire. January 2012.
Web crawling, network narratives and performing political identities at the 'Internet Research 12.0 – Performance and Participation', Association of Internet Researchers (Aoir), Seattle 2011. Panel: Political subjects and political fields: Or how technology happens twice.
The truth in Computing?: Issue Crawler and Cultural Research – A Workshop organised by Digital Humanities, Digital Methods, Research Centre for Digital Material Culture, Digital Theme (2011 University of Sussex).
'You Can Do More, You Can Actually Change the Productivity': Affective Labour in Queer/ Feminist Porn Cultures at the 'Revolting bodies, politics and gender': 18th lesbian lives conference (2011 University of Brighton).
Feminist networks, issues and identities: The case of Feminism in London 2009 at the 3rd European Communication Conference, ECREA 2010, University of Hamburg.
Mapping Feminist Networks: Digital Tools and Ethnographies at the Women's Liberation Movement @ 40 Conference: Continuities and Change (2010 Ruskin College, University of Oxford)
A Code for Eccentricity and Home-made Cookies: Researching Brighton Queer Cultural Activism at the BSSN Conference : THE ACADEMY & ACTIVISM (2009 University of Brighton)
Associate Tutor - School of Media, Film and Music, University of Sussex
Introduction to Media Studies 1 & 2, Academic Year 2009/2010
Research Methods in Media and Film, Academic Year 2009/2010
Questioning the Media, Academic Year 2010/2011
Analysing Digital Media, Academic Year 2010/2011
News, Politics and Power, Academic Year 2011/2012
Postgraduate tutorials, International student support, Academic Year 2011/2012
Visiting Lecturer, University of Brighton

Analysing Discourse (Critical Discourse Analysis prt of the module), Department of English and Media. Seminar Instructor, November 2010 - February 2011.
Broadcast Media - a critical introduction, University of Brighton in Hastings, Lecture on "Genre", March, 3 2011. Seminar instructor February 2012 - June 2012.
Critical Introduction to Media Studies, Lecturer & seminar instructor. October 2011- December 2011.
Module leader, University of Brighton
Global political communication, February 2012 - June 2012 (BA Broadcast Journalism, University of Brighton).