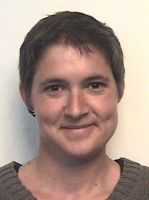 Dr
Kate O'Riordan
Post:
Co-Director (Centre for Material Digital Culture)
Other posts:
Reader in Media (Centre for Material Digital Culture, Media and Film, School of Media, Film and Music)
Senior Lecturer in Media (Sussex Centre for the Visual)
Location:
SILVERSTONE 330
Email:
K.ORiordan@sussex.ac.uk

Telephone numbers
Internal:
6730
UK:
01273 876730
International:
+44 1273 876730

Research expertise:
download vCarddownload vCard to your mobile
Biography
| | |
| --- | --- |
| | Kate is a Reader in the Department of Media and Film at Sussex. She has taught across the media studies curriculum specialising in digital media technologies, and science. She also has an associate professor appointment in the Art Department at the Unversity of California, Santa Cruz and can be contacted there for part of the year. |
Kate is on the coordinating committee of the Centre for Material Digital Culture, at the University of Sussex, and the Brighton and Sussex Sexualities Network (BSSN).
In 2006 she completed a three-year secondment to Lancaster University where she worked on media representations of human genomics at the Centre for the Social and Economic Aspects of Genomics (CESAGen), and where she continues to be an affiliated researcher.
In 2004 she chaired the International Conference of the Association of Internet Researchers, and she served on the executive committee of the organisation, 2004-2006. Kate has also served as vice-Chair of the Digital Culture and Communication section of the European Communication and Research Association.
She has made numerous interventions through publishing, conferences and public engagement activities in the UK and internationally.
A recent selection of these activities included acting as invited speaker or chair:
Circulating Genomes at the Genomics Forum, Edinburgh University, UK
Reproductive Dystopias at the Cambridge Department of History and Philosophy of Science, UK
Drawing up a manifesto on ethics of e-research at The ethical issues of e-research panel, ESRC Research Methods Festival 2010, St Catherine's College, Oxford, UK
Virtually McLuhan: Theorizing Code and Digital Life series at the Centre for Cross Faculty Enquiry in Education, UBC, Canada
Biodigital lives: making, consuming, archiving the lives of technoscience, at the University of Sussex's Centre for Material Digital Culture
Centre for Cultural Studies Colloquium, UCSC, USA
TAP seminar series at Goteborg University, Sweden
Science and Justice Working Groupat UC Santa Cruz, USA
Media Technology and Sexuality at the University of Sussex's Centre for Material Digital Culture

Role

<script>