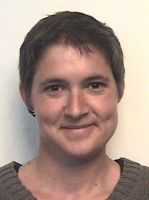 Dr
Kate O'Riordan
Post:
Co-Director (Centre for Material Digital Culture)
Other posts:
Reader in Media (Centre for Material Digital Culture, Media and Film)
Senior Lecturer in Media (The Centre for Visual Fields)
Location:
Silverstone 330
Email:
K.ORiordan@sussex.ac.uk

Telephone numbers
Internal:
6730
UK:
01273 876730
International:
+44 1273 876730

Research expertise:
download vCarddownload vCard to your mobile
Biography
| | |
| --- | --- |
| | Kate is a Reader in the Department of Media and Film at Sussex. She has taught across the media studies curriculum specialising in digital media technologies, and science. She also has an associate professor appointment in the Art Department at the Unversity of California, Santa Cruz and can be contacted there for part of the year. |
Kate is on the coordinating committee of the Centre for Material Digital Culture, at the University of Sussex, and the Brighton and Sussex Sexualities Network (BSSN).
In 2006 she completed a three-year secondment to Lancaster University where she worked on media representations of human genomics at the Centre for the Social and Economic Aspects of Genomics (CESAGen), and where she continues to be an affiliated researcher.
In 2004 she chaired the International Conference of the Association of Internet Researchers, and she served on the executive committee of the organisation, 2004-2006. Kate has also served as vice-Chair of the Digital Culture and Communication section of the European Communication and Research Association.
She has made numerous interventions through publishing, conferences and public engagement activities in the UK and internationally.
A recent selection of these activities included acting as invited speaker or chair:
Circulating Genomes at the Genomics Forum, Edinburgh University, UK
Reproductive Dystopias at the Cambridge Department of History and Philosophy of Science, UK
Drawing up a manifesto on ethics of e-research at The ethical issues of e-research panel, ESRC Research Methods Festival 2010, St Catherine's College, Oxford, UK
Virtually McLuhan: Theorizing Code and Digital Life series at the Centre for Cross Faculty Enquiry in Education, UBC, Canada
Biodigital lives: making, consuming, archiving the lives of technoscience, at the University of Sussex's Centre for Material Digital Culture
Centre for Cultural Studies Colloquium, UCSC, USA
TAP seminar series at Goteborg University, Sweden
Science and Justice Working Groupat UC Santa Cruz, USA
Media Technology and Sexuality at the University of Sussex's Centre for Material Digital Culture

Role

<script>
Kate's research is a cultural studies of science and technology that deploys sexuality and gender as key analytical categories.

Kate has worked on gender and gaming, web cameras, medical imaging, art and digital design. She has also published on sexuality and technology and the ethics of internet research. In the ICT strand of her research she edited collection with David Phillips called Queer Online: Media Technology and Sexuality. and co-edited a special edition of Communications: The European Journal of Communication Research with Maren Hartmann and Caroline Bassett.

In the biotechnology strand she completed a co-authored monograph on visual cultures of genomics, and discourses of human cloning in 2007 with Routledge: Human Cloning in the Media: From Science Fiction to Science Practice. and a single authored book project The Genome Incorporated: the construction of biodigital identity. (Ashgate, 2010)

More details of her work can be found at Academia.Edu

Current projects:

Queering Genealogies

A project, together with Ross Robinson, which assembles audio files from interviews into a web-based installation. These materials are drawn from life stories about people who come from queer families, or who have experienced queer forms of kinship, and are themselves queer identified in some way.

Accounting for Knowledge of Genetics and Cloning in Mass Observation (with Dr Joan Haran)

EPINET—Integrated Assessment of Societal Impacts of Emerging Science and Technology from within Epistemic Networks (FP7-SCIENCE-IN-SOCIETY-2011-12 Collaborative project)

Biodigital Lives: Bodies of Digital Culture

After the genome incorporated - Bodies of Digital Culture - a project bringing together the different sites that open up lived bodies to bio and information technologies, and which animate biodigital technologies by re-locating the body at their centre.
Kate Convenes the MA in Digital Media
She currently supervises DPhil work on feminism and new media, femininity and blogging, the future of the book, digital life histories, documentaries of the virtual and she has previously worked with students on hypertext and embodiment, gendered digital reading practices and online fan cultures.
Taught postgraduate:
Theory and Practice of Interactive Media
Undergraduate:
Questioning the Media
Science and the Media
O'Riordan, Kate (2012) The life of the gay gene: from hypothetical genetic marker to social reality. Journal of Sex Research, 49 (4). pp. 362-368. ISSN 1559-8519
O'Riordan, Kate (2011) Revisiting digital technologies: envisioning biodigital bodies. Communications, 36 (3). pp. 291-312. ISSN 0341-2059
Bassett, Caroline, Hartmann, Maren and O'Riordan, Kate (2011) Revisiting digital media technologies? Understanding technosociality. Communications, 36 (3). pp. 283-290. ISSN 0341-2059
O'Riordan, Kate (2011) Human genomics: from hypothetical genes to biodigital materialisations. Living Books about Life . Open Humanities Press. ISBN 9781607852643
O'Riordan, Kate (2011) Writing biodigital life: personal genomes and digital media. Biography, 34 (1). pp. 119-131. ISSN 0162-4962
O'Riordan, Kate and White, Heather (2010) Virtual believers: queer spiritual practice online. In: Queer spiritual spaces: sexuality and sacred places. Ashgate. ISBN 9780754675273
O'Riordan, Kate (2010) The genome incorporated: constructing biodigital identity. Theory, technology and society . Ashgate , London . ISBN 978-0-7546-7851-9
O'Riordan, Kate and Haran, Joan (2009) From reproduction to research: sourcing eggs, IVF and cloning. Feminist Theory, 10 (2). pp. 191-210. ISSN 1464-7001
Bubela, Tania, Nisbet, Matthew C, Borchelt, Rick, Brunger, Fern, Critchley, Cristine, Einsiedel, Edna, Geller, Gail, Gupta, Anil, Hampel, Jürgen, Hyde-Lay, Robyn, Jandciu, Eric W, Jones, S Ashley, Kolopack, Pam, Lane, Summer, Lougheed, Tim, Nerlich, Brigitte, Ogbogu, Ubaka, O'Riordan, Kathleen, Quellette, Colin, Spear, Mike, Strauss, Stephen, Thavaratnam, Thushaanthini, Willemse, Lisa and Caulfield, Timothy (2009) Science Communication Reconsidered. Nature Biotechnology, 27 (6). pp. 514-518. ISSN 1087-0156
O'Riordan, Kate (2008) Human cloning in film: horror, ambivalence, hope. Science as Culture , 17 (2). pp. 145-162. ISSN 0950-5431
O'Riordan, Kate (2008) Fragments of creative cloning: time, money and relationships. In: Human futures: art in an age of uncertainty. FACT & Liverpool University, Liverpool. ISBN 9781846311819
O'Riordan, Kate (2008) Genomic science in contemporary film: institutions, individuals and genre. In: Cinema and Technology: Cultures, Theories, Practices. Palgrave Macmillan. ISBN 9780230524774
Haran, Joan, Kitzinger, Jenny, McNeil, Maureen and O'Riordan, Kate (2007) Human Cloning in the Media: From Science Fiction to Science Practice. Routledge: Genetics and Society Book Series . Routledge. ISBN 978-0-415-42236-9
O'Riordan, Dr Kate and Phillips, DJ, eds. (2007) Queer Online: Media Technology and Sexuality. Digital Formations . Peter Lang. ISBN 978-0-820-48631-4
O'Riordan, Kate (2007) Technologized bodies: virtual women and transformations in understandings of the body as natural. In: Physical culture, power and the body. Routledge, London ; New York, pp. 232-252. ISBN 9780415363525
O'Riordan, Kate (2006) Gender technology and visual cyberculture. In: Critical cyberculture studies. New York University Press, New York, pp. 243-254. ISBN 9780814740248
Haran, Joan and O'Riordan, Kate (2006) Women, Feminism and Human Cloning: Recirculating Concerns and Critiques. Feminist Media Studies, 6 (2). pp. 217-222. ISSN 1468-0777
O'Riordan, Kate (2005) From usenet to Gaydar: a comment on queer online community. ACM SIGGROUP Bulletin, 25 (2). pp. 28-32.
O'Riordan, Kate (2005) Changing cyberspaces: dystopia and technological excess. In: The Matrix Trilogy: cyberpunk reloaded. Wallflower Press, London ; New York, pp. 138-150. ISBN 9781904764328
O'Riordan, Kate (2005) Transgender activism and the net: global activism or casualty of globalisation. In: Global activism, global media. Pluto Press, London, pp. 179-193. ISBN 9780745321950
Doyle, Julie and O'Riordan, Kate (2004) Virtual ideals: art, science and gendered cyberbodies. In: Cyberfeminism, next protocols. Autonomedia Books. ISBN 9781570271496
Munt, Sally R, Bassett, Elizabeth H and O'Riordan, Kate (2002) Virtually Belonging: Risk, Connectivity, and Coming Out On-Line. International Journal of Sexuality and Gender Studies, 7 (2-3). 125- 137. ISSN 1566-1768
Doyle, Julie and O'Riordan, Kate (2002) Virtually Visible: Female Cyberbodies and the Medical Imagination. In: Reload: Rethinking Women and Cyberculture. MIT Press. ISBN 978-0-262-56150-1
O'Riordan, Kate (2002) Windows on the web: the female body and the web camera. In: Women and everyday uses of the internet: agency & identity. Peter Lang, New York. ISBN 9780820461410
O'Riordan, Kate (2001) Playing with Lara in virtual space. In: Technospaces - Inside the New Media. Critical Research in Material Culture . Cassell, pp. 224-238. ISBN 9780826450043