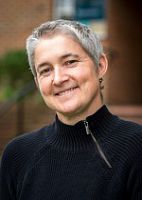 Prof
Kate O'Riordan
Biography
I came to Digital Media through work on the ethical and social aspects of computing in the 1990s. My work on gender, sexuality and digital culture extended to social issues in web design and development, personal media production, digital imaging in medicine, computer gaming, community, social and activist media. My more recent work has engaged with issues about other emerging technologies including biotechnology, cloning, genomics and public engagement with science and technology. After working as a visiting lecturer at Brighton and the University of Middlesex in the 1990s I came to the University of Sussex. At Sussex I've worked in both Continuing Education and Media, Film and Music.
In between I have also worked at the University of Lancaster and University of California Santa Cruz.
I sometimes blog at Biodigital Lives https://biodigitallives.wordpress.com/
Role
Professor of Digital Culture, University of Sussex.