Your Professional Development
Planning your professional development as a researcher will help you learn the skills you need to manage your research, and maximise your professional prospects.
An important first step in planning your development is to talk to your supervisors about your training needs- we recommend that you meet with your supervisor to do this within the first 3 months of starting your doctorate. During this meeting you should identify your needs and discuss ways of meeting them through the Researcher Development Programme, training provided by your School, and wider activities.


Your school may have a training needs analysis process in place which you should explore with your supervisors.


Your training record can be can found within the personal menu of Sussex Direct. This will help you remember what training you have attended at Sussex, and assist when you come to develop your CV, prepare for your annual review and job applications.
Researcher Development Framework (RDF)
The framework describes the knowledge, behaviour and attributes of successful researchers, and is a useful guide for your development as a researcher.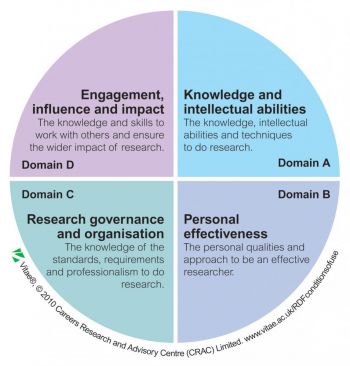 Developed by Vitae, the framework is grounded in research through interviews and focus groups with researchers themselves, and captures the knowledge, behaviours and attributes that the higher education section has identified as significant for researchers. As such the framework has been determined and defined by the research profession, and validated by stakeholders, such as employers and funders.
How to use it
It's up to you to decide what your priorities are, how you need to develop and how that can be achieved. You can use the framework to help you:
explore all the aspects of being a researcher
identify your strengths
prioritise areas for professional development
write a plan, then monitor progress and success
have productive discussions with others, e.g. your supervisor, careers advisor or other professional development provider
look for formal and informal development opportunities
prepare for one-to-one progress reviews, appraisals or career development conversations with your research manager or mentor.
When you are looking at future career options and goals, the RDF helps you to:
consider the capabilities and experiences that will enhance your career prospects
assess opportunities provided by your institution and look for development opportunities outside your research
highlight, articulate and provide evidence of the transferability of your capabilities and expertise in your CV, in job applications and at interviews.
Professional Development Planning

Vitae is an international programme led by the UK charity, Careers Research and Advisory Centre, working to enhance the potential of researchers.
Vitae's website has many useful resources including a professional development planning for researchers course. This online course, developed for researchers who want to make the most of opportunities and create new ones, covers all stages in the process.
All researchers have full access to the Vitae website and resources if you register with your Sussex email address.