Our First Thesis Boot Camp

Last weekend 25 later stage doctoral researchers from across campus gathered for our very first and very successful Thesis Boot Camp.
Developed and facilitated by Dr Peta Freestone the boot camp is designed to help late stage doctoral researchers get over that final hurdle, and is dedicated to getting words down on paper (or in reality a laptop). The weekend included motivational talks, goal setting activities, strategies for writing quickly and well, and provided a unique opportunity for researchers to get together for one weekend dedicated solely to writing.
The ultimate aim of Thesis Boot Camp is to write 20,000 words of first draft material, and at least one of our researchers achieved this and earned herself the sort after golden brick! Several green, blue, and red bricks were also distributed for those writing between 5,000-15,000 words. Thesis Boot Camp is not for editing, revising, preparing presentations or grant applications, so researchers must be able to identify a particular chapter or chapters of their thesis they will specifically work on over the weekend.

It was an inspiring few days, and the feedback from those taking part has been overwhelmingly positive. Researchers appreciated the chance to connect with other researchers in the same boat and share their writing experiences, the space and time to write, the practical advice and focussed approach, and felt the weekend has helped them make important progress towards completing their thesis.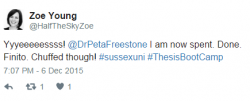 There is lots of enthusiasm for more! We will therefore be organising follow-up days for those attending (providing protected space, time, and catering to recreate the Thesis Boot Camp environment), and a repeat in the summer to give others the opportunity to participate.
Helen Hampson, Researcher Development Officer
Researcher-development@sussex.ac.uk