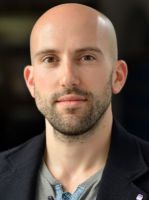 Dr
Tom Davies
Post:
Senior Lecturer in American History (American Studies, History)
Other posts:
Director of Admissions and Recruitment (School of History, Art History and Philosophy)
Location:
ARTS A A149
Email:
T.A.Davies@sussex.ac.uk
Personal homepage:
N/A

Telephone numbers
Internal:
6756
UK:
01273 876756
International:
+44 1273 876756

Research expertise:
download vCarddownload vCard to your mobile
Biography
Biography
I completed my doctoral studies at the University of Leeds in 2013 (under Dr Kate Dossett & Dr Simon Hall) and joined the University of Sussex as a Lecturer in American History in September of that year. Since then I have enjoyed teaching across both the History and American Studies departments on a range of modules and have recently become Director of Recruitment and Admissions for the School of History, Art History, and Philosophy.
Research interests
I am a specialist in twentieth century postwar political and social American history, with a particular focus on the history of race and inequality in the United States and the relationship between public policy and movements for social, economic and political change. My first monograph Mainstreaming Black Power (University of California Press, April 2017) examines how mainstream American politicians and institutions responded to the emergence of Black Power in the mid-1960s and traces the longer term consequences of their response, in particular in how it affected black politics and urban society.
Current research
My current article-length research project is addressing the impact of New York City Mayor John V. Lindsay's brand of Great Society liberalism on the race and politics in the city. My next major research project will explore the relationship between technology, race, and inequality in the post-civil rights U.S.
Major publications
Books
Tom Adam Davies, Mainstreaming Black Power (University of California Press, April 2017)
Articles
Tom Adam Davies 'Beyond Radical Chic: The Black Panther Party,' History Today, 68 (4), April 2018
Anne-Marie Angelo & Tom Adam Davies, '"American business can assist [African] hands": The Kennedy administration, US corporations, and the Cold War struggle for Africa', The Sixties: A Journal of History, Culture, and Politics, Vol. 8, Issue 2, (December 2015), pp. 156-178
Tom Adam Davies, 'Black Power in Action: The Bedford-Stuyvesant Restoration Corporation, Robert Kennedy, and the Politics of the Urban Crisis', Journal of American History, Vol. 100, No. 3, (December 2013), pp.736-760
Postgraduate Supervision:
I can offer supervision in the following areas:
Post-1945 American social, political and cultural history
20th century American political culture (especially liberalism and conservatism in the post-New Deal U.S.)
The Civil Rights and Black Power movements
Post-1960s racial politics and race relations, up to the present day
Memberships of professional bodies
I am a member of the following organisations:
Organisation of American Historians (OAH)
Urban History Association (UHA)
Historians of the Twentieth Century United States (HOTCUS)
British Association for American Studies (BAAS)
Fellow of the Higher Education Academy
Widening Participation
I have written and recorded a six-part podcast lecture series on the American Civil Rights and Black Power movements for Massolit, (www.Massolit.io) a company who produce audio-visual online educational content primarily for A-Level students across the UK. I am also a school visits representatives for American History subject area here at the University of Sussex.
Role
Senior Lecturer in American History
Director of Recruitment & Admissions, HAHP